23 Sep 2005
Did Yoffy's Fingers Bob in Vain?
"The joys of the childrens' television of yesteryear"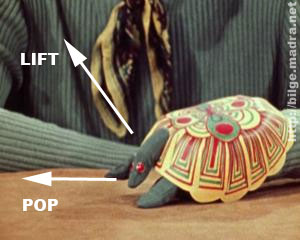 "Yoffy lifts a finger and a tortoise head peeps out." sang the theme music to Fingerbobs
Isn't it an absolute disgrace, as well as a sad indictment of the modern world, to think that the so-called "Children's Entertainers" of today are far too busy snorting cocaine off each other's nether-regions to follow Yoffy's pioneering example? In fact, to the best of my knowledge, not one of these preening, pouting poppinjays of today has ever, even slightly, elevated one of their own digits, in order to see just what [if anything] pops out!