03 Dec 2005
So Farewell Then, Georgie Best
"Thoughts on the lionising of a footballing icon"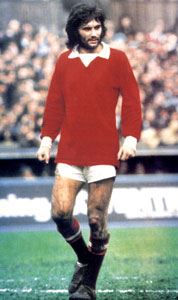 I was fully prepared to be cynical when I saw you were being given what amounted to a state funeral back home in Belfast. Those being usually the preserve of deceased political and religious leaders, not someone who was merely quite good at kicking a leather ball around a field. OK. So you made us proud that our pathetic fucked up wee country could produce someone universally recognised as the greatest footballer in the world, but you let us down time and time again and embarrassed us over and over with your drunken antics. Then again, at the end of the day, you didn't need to lead us into war to secure your place in the history books or exhort us to prove our love for God by killing each other. So, perhaps you did, after all, epitomise what's best about Norn Iron and its people; A touch of genius, mixed with a drunken streak of self destruction and laughing all the way to the cemetery.
I only saw you play live the once, many years ago, back at Windsor Park in Belfast. It wasn't much of a game - some kind of testimonial match or other. I think you probably needed a few quid, having pissed all your millions up agin the wall, as usual. You were well past your prime, a tad overweight and spent most of the game walking about disinterestedly in the centre-circle. Every so often tho', you'd get the ball and all of us in the crowd would hold our breath in anticipation as you literally walked it past two or three opponents, leaving them slipping and falling over their feet in your wake. It was mesmeric but executed as casually as if you were on a stroll to the corner shop. But all too quickly you'd stop, pass the ball off to a team-mate and dander lazily back to the centre circle and out of the game for another ten or fifteen minutes, until you felt like putting on another show. It left me wondering what it would have been like to see you in your prime.
Rest in Peace 'Belfast Boy' --and thanks for showing the world what Norn Iron could be!