16 Apr 2011
AdAnnoyed 003
"Meet One Shit!"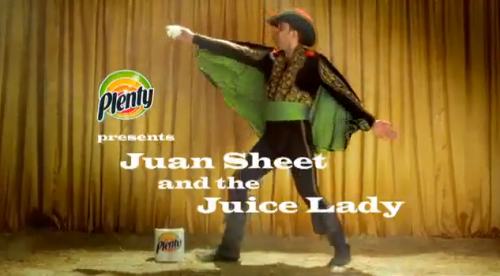 Top marks to the genius who came up with the "Juan Sheet" character, for Plenty kitchen towels' new £3M ad campaign.
He's a stereotypical Mexican, y'see, complete with sombrero and gaudy embroidered shirt and cape. So when he says his name in a Mexican accent, it's supposed to sound like he's saying "One Sheet" --stressing the toughness and absorbency of Plenty kitchen towels.
Fine. Except that if "Juan" is Mex-speak for "One", then "Sheet" is equally as obviously Mex-speak for "Shit", which sort of undermines the concept of depending on this guy to restore cleanliness and hygeine to your kitchen.
I cannae believe for the life of me that the ad agency who came up with this didnae know what they were doing, so hats off to them for tricking SCA [the brand owners] into parting with three million quid for a campaign that subliminally equates using their product with wiping down your kitchen with a turd.
Or as Plenty's brand marketing controller, Emma Heald puts it:
We're really excited by the introduction of the new Plenty icon, Juan Sheet. Whilst we've had great success with Brenda and Audrey, we felt it was time to inject new energy into the brand and we feel this new icon personifies the brand's character and core messages in a more powerful way.
er…​ Shall I tell her, or will you?