"An Exercise in Pattern Making"
Another follow-up to the infamous Animation Street fiasco, this session was intended to try and get the students to re-engage with the idea of mark-making and illustrative pattern work.
Each student marked out an A2 sheet of paper into a grid of 8 rectangles. They then had to fill each rectangle with an illustrative pattern based on some object observed in the world around them. The finished piece should work as an interesting abstract piece of art.
Admin duties meant that I was unable to finish my grid in between sucking spreadsheets, so this is either a 'work-in -progress' [also known in hip'n'trendy-land as a WiP], or a contemptible failure to complete the task –depending on the charitableness of your disposition.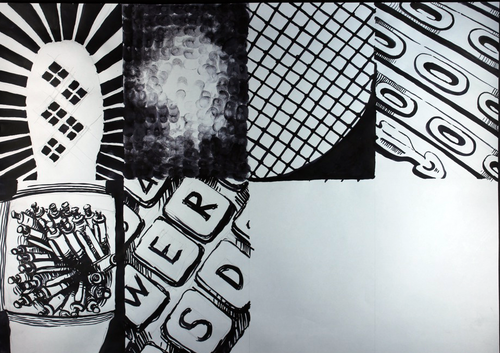 L to R: Sole of my boot, My finger print, Speaker grill, My bungee type straps for my bike pannier, Box of biros, Computer keyboard.