We're All in This Together
"Another [almost] topical cartoon"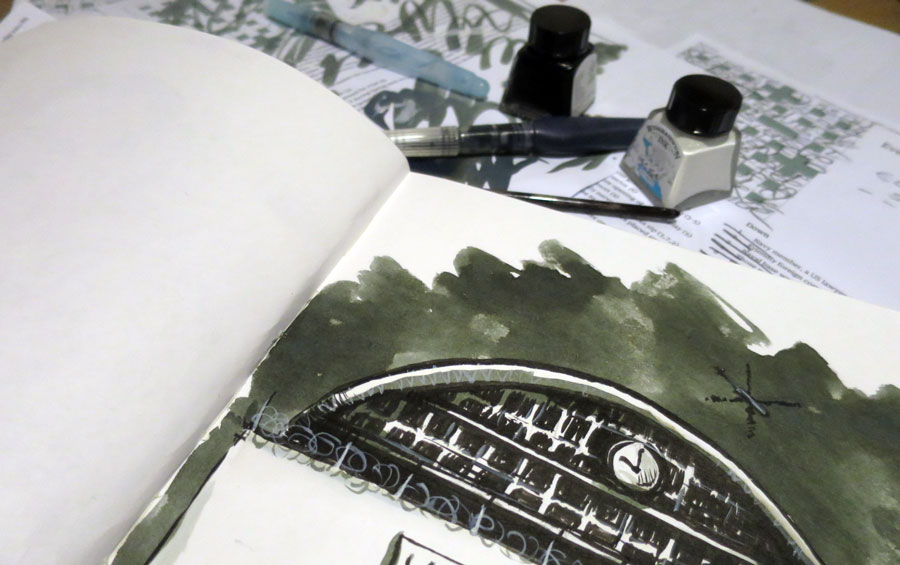 Flushed with the success of my foray into porcine punning yesterday, which received no less than a collosal FOUR! re-tweets on Twitter [and three of them weren't even me!] –I decided to return to the fray today, with another cartoon inspired by the Conservative Party Conference, taking place just down the road at the mo'.
As with yesterday's, I'll show you the finished cartoon first and then anyone who's still awake and interested in 'artistic gestation' can read on for the Work-in-Progress report.
Here you go: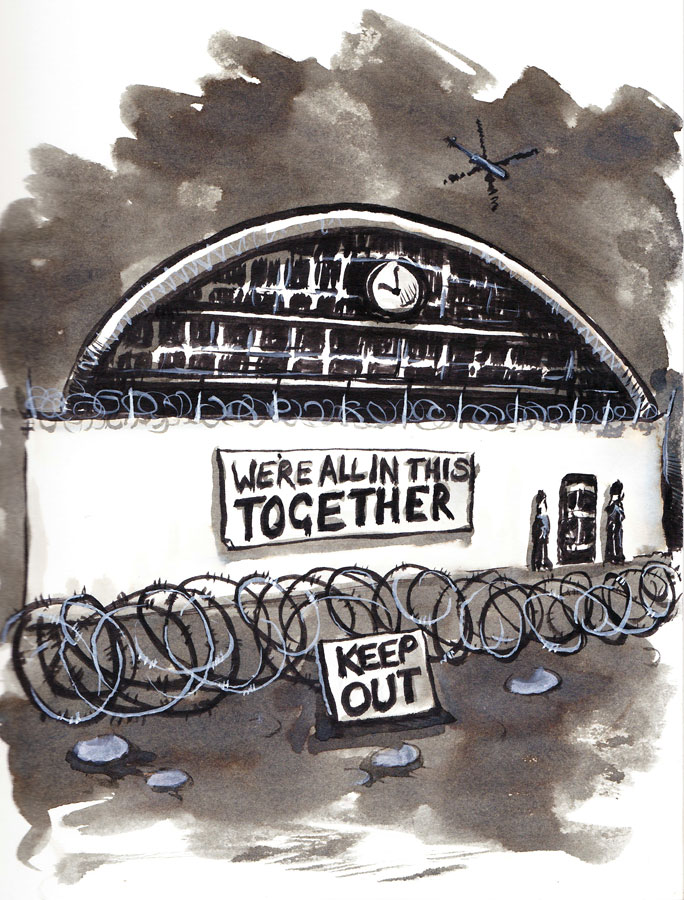 ---
OK. Let's just wait for these tumbleweeds to finish blowing past and then we can get on….
Seeing as I wasn't drawing any people in today's cartoon [apart from the tiny figures of the coppers, in the background], the only likeness I had to worry about was the G-Mex Centre [or whatever it's called this week]. Luckily it's a fairly distinctive building. So, after firing up a couple of piccies of it on my laptop to refer to, it was straight in with the initial pencil sketch: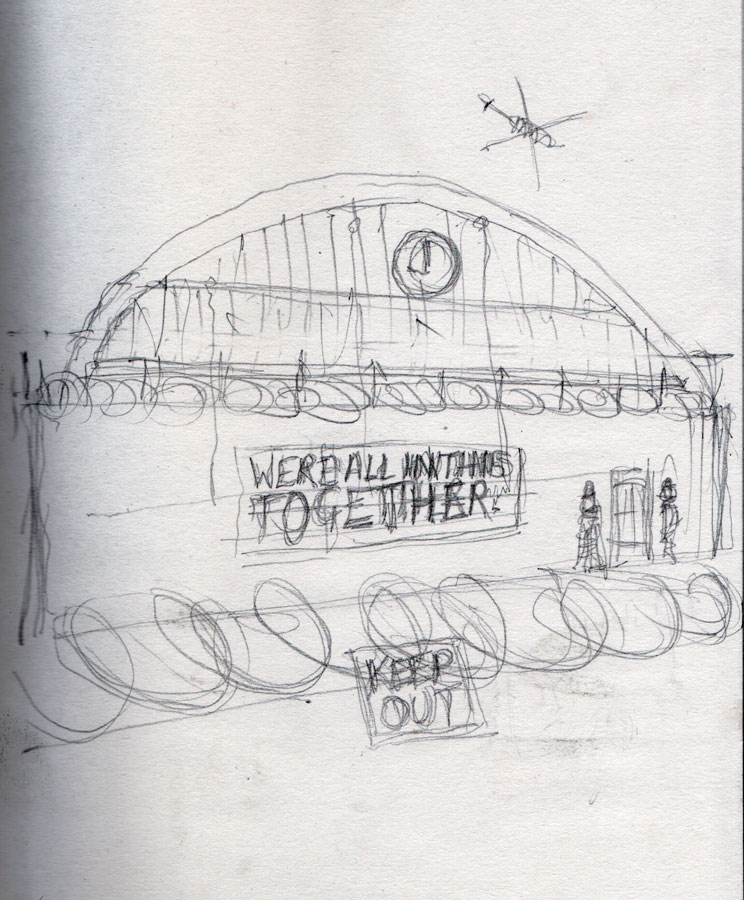 As is often the way, I was a bit embarrassed by the result, as it seemed ridiculously simplistic. However, I did want to try something a bit more free and cartoony than yesterday's effort, so I resisted my customary urge to overwork the fecker to death [at least for now].
The next step was the inking up. Although it was looking a bit more interesting by now, I was still feeling pretty unhappy about it. The trouble with making a large featureless wall the central focus of your image is that the centre of your image ends up being er… a large featureless wall.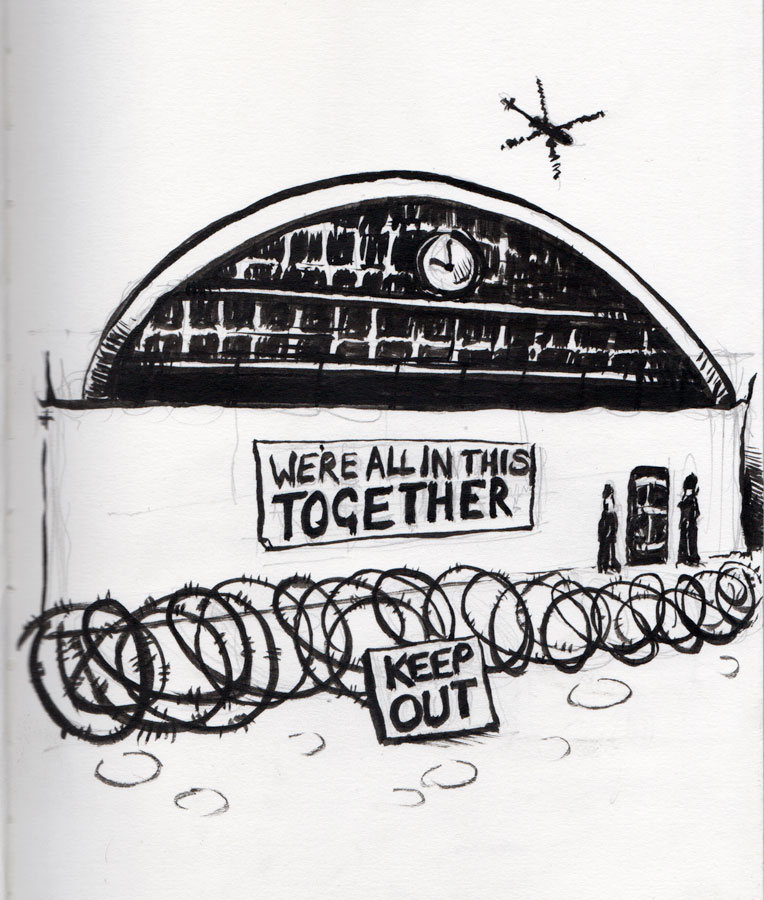 Not for the first time in my arse-witted career, I was left hoping that I'd be able to pull my [virtual] cojones out of the fuego at the watercolouring stage.
Actually 'watercolouring' isn't strictly true. I decided I'd go for a greyscale opus today. So instead of watercolours, I used a water brush filled with diluted drawing ink, to put in some washes. I also got the first chance to try out a bottle of white drawing ink I bought a couple of weeks ago, which i used to add some highlight details [such as on the barbed wire in the foreground and atop the wall].
I can't say I'm delighted with the finished result. I still think it falls between two stools as regards detail vs. looseness. But, considering what it started out like, I think I did a reasonable job of saving most of my blushes.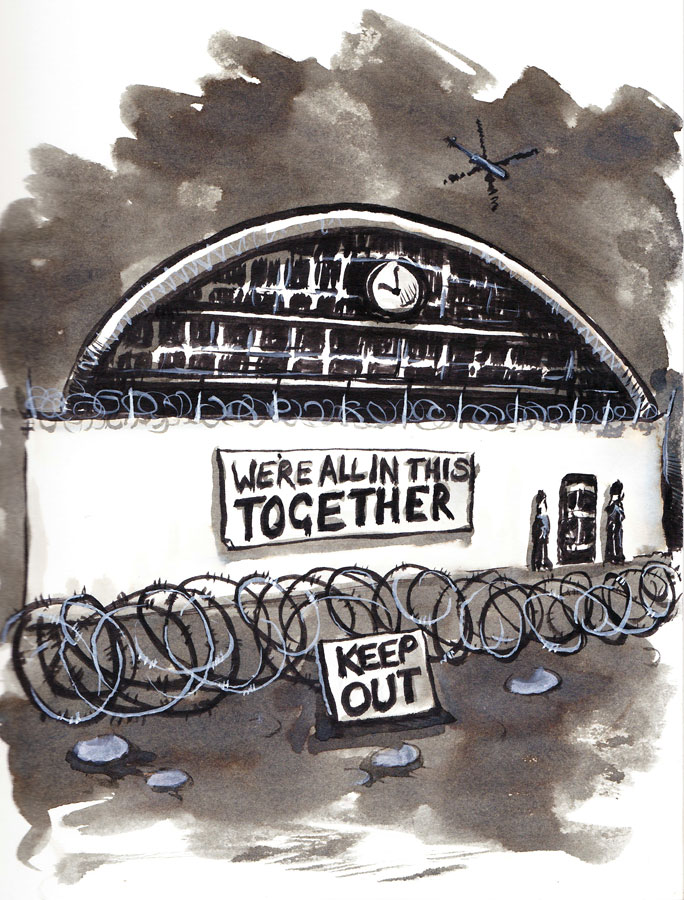 [BTW –Just in case the punchline is lost on my vast foreign readership, "We're all in this together" was one of David Cameron's famous sayings [re proposed 'government austerity measures'] when he first came to power]