Portrait Challenges 2018-19
This is a fun challenge, organised by @StudioTeabreak every Thursday on Twitter, whereby you're invited to copy or interpret in your own way, a historical 'portrait' of some kind. Here are my efforts…​.
2018-07-26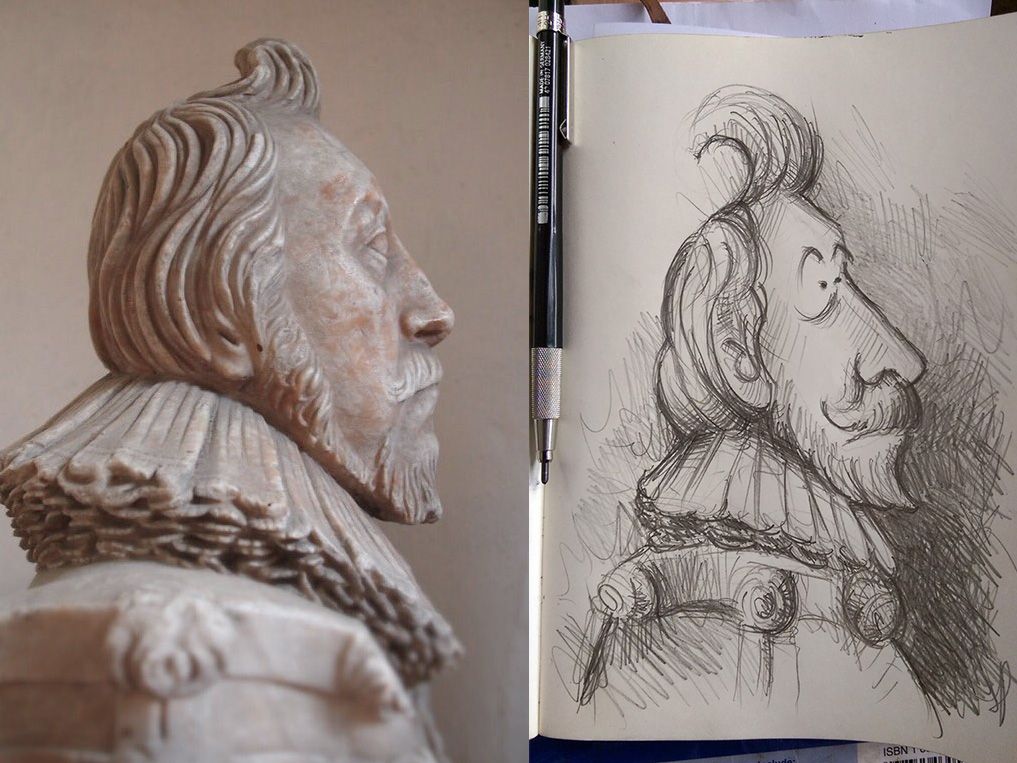 "Dr John Seaman". Detail of an alabaster effigy on a tomb in St Mary's church, Painswick. Carved by Samuel Baldwin of Stroud around Seaman's death in 1623.
2018-08-02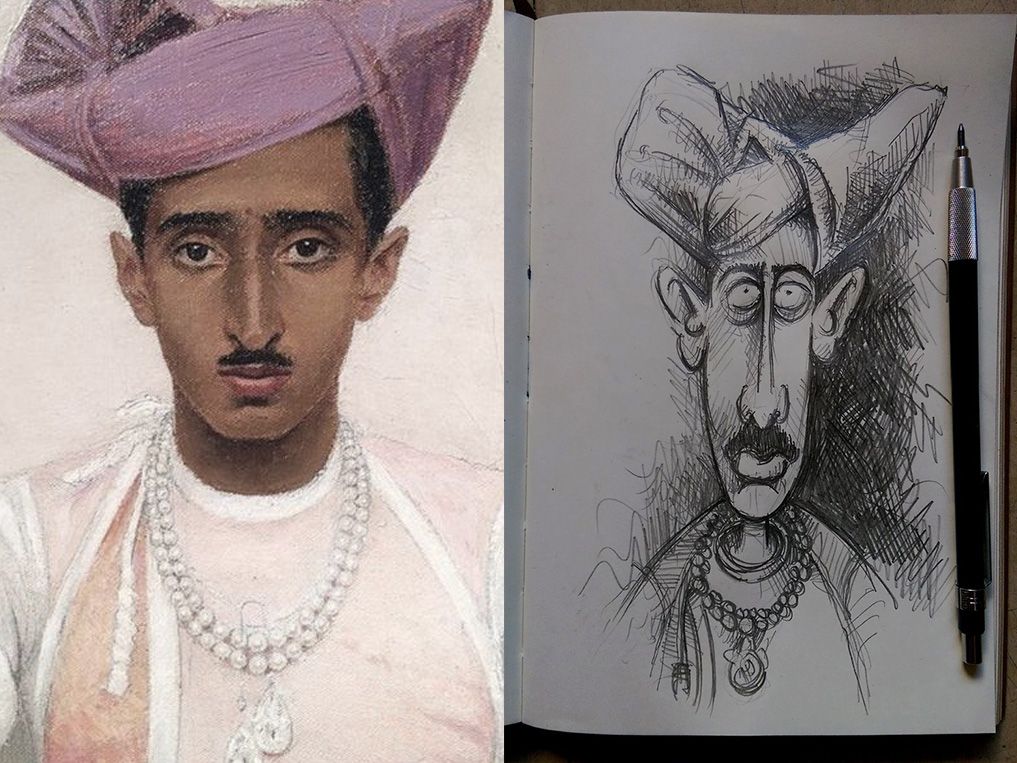 "The Maharaja of Indore", painted in oils on canvas by Bernard Boutet de Monvel in 1933.
2018-08-09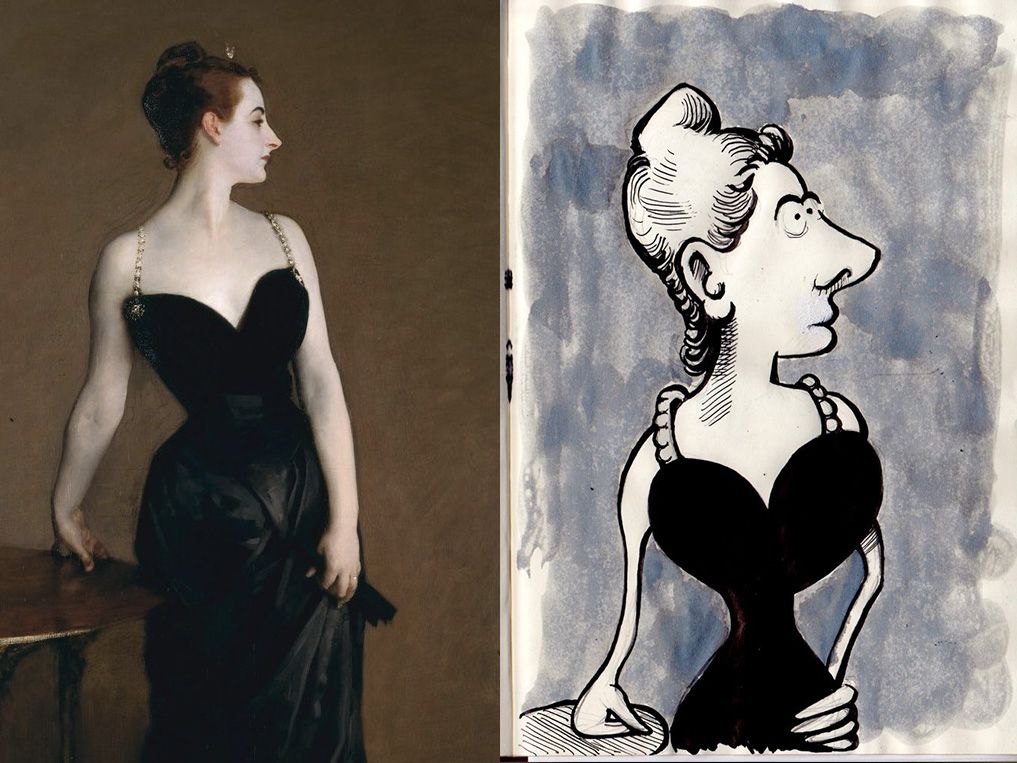 "Portrait of Madame X", painted in 1884 by John Singer Sargent.
2018-08-15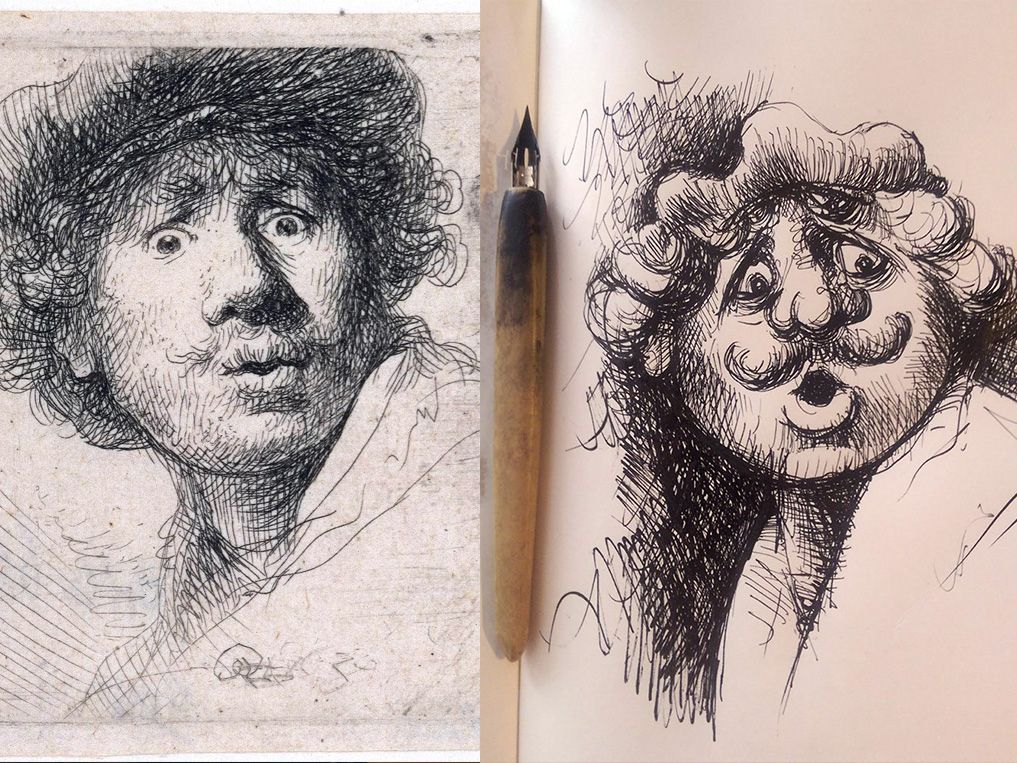 Rembrandt made this self-portrait etching in 1630 when he was 24, as part of a series that experimented with different facial expressions.
2018-08-23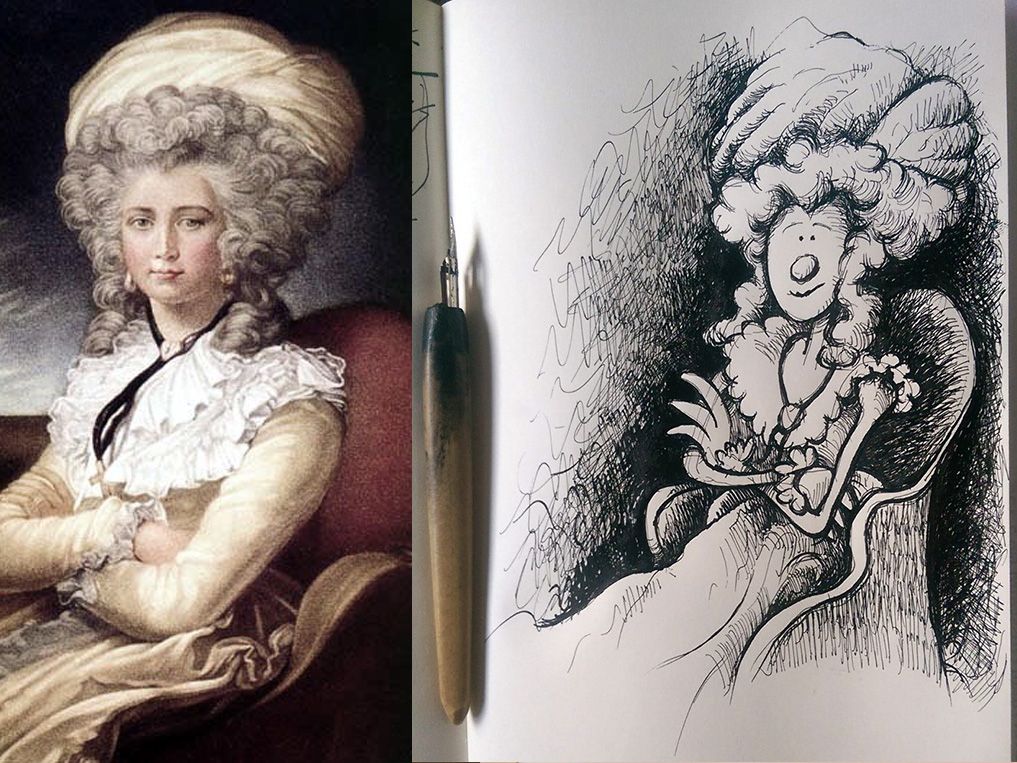 "Self Portrait" by Maria Cosway, 1787.
2018-08-30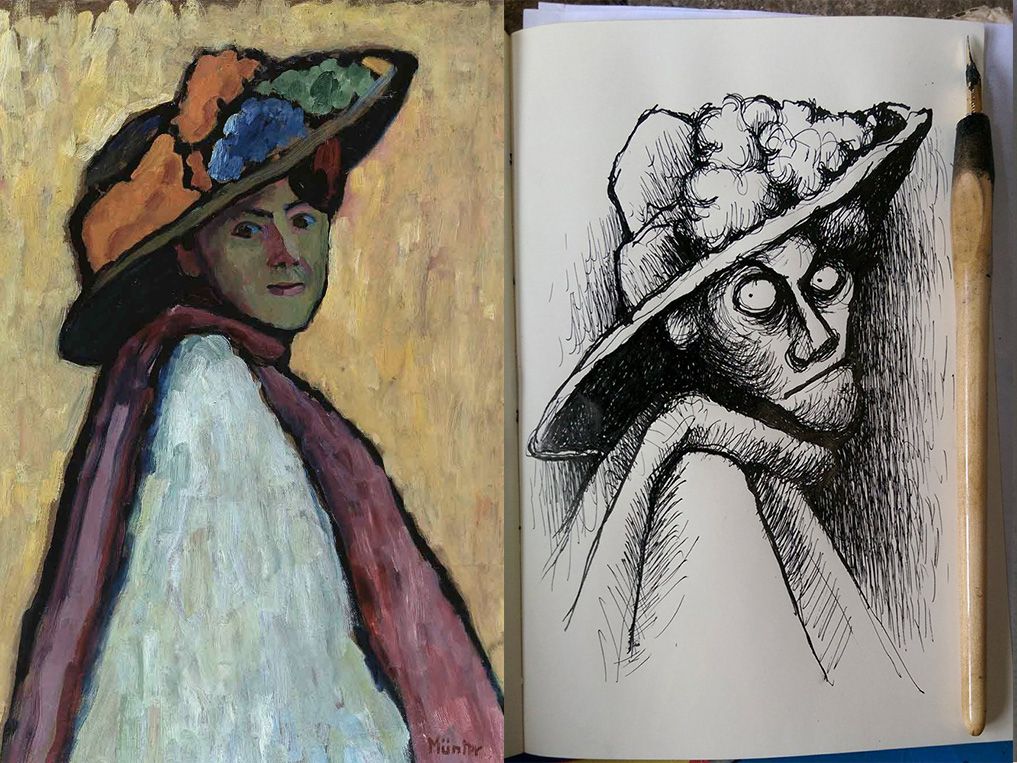 "Portrait of Marianne von Werefkin", painted by Gabriele Münter in 1909. Münter was a German expressionist painter at the forefront of the Munich avant-garde.
2018-09-06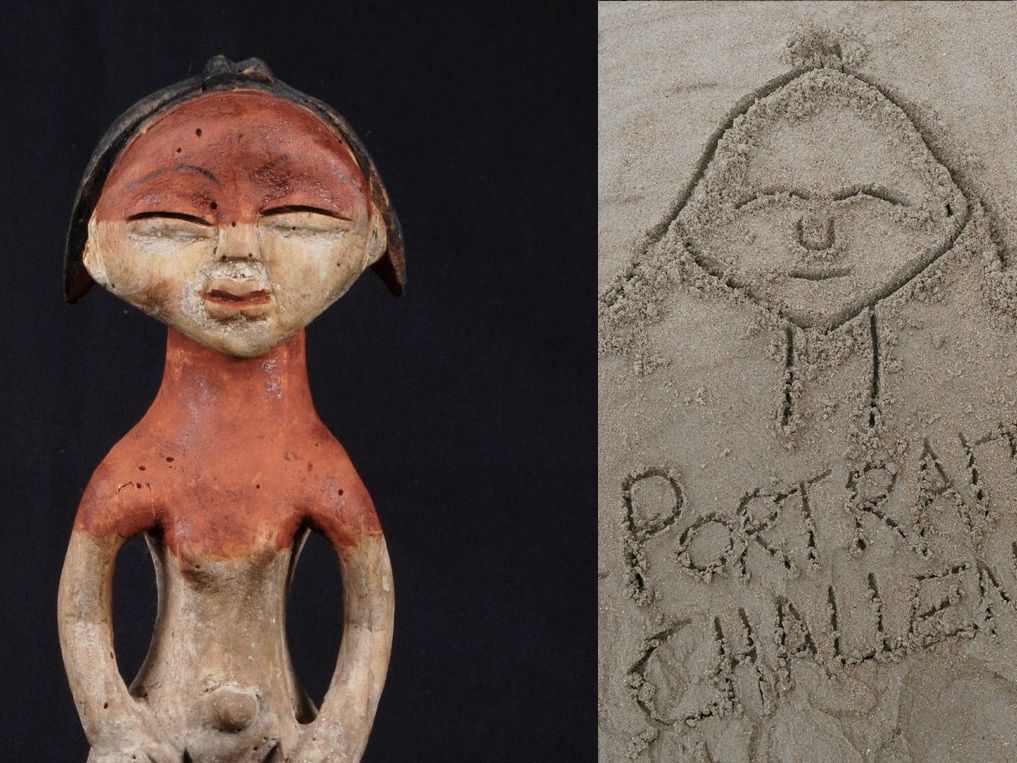 Early 20th century carved wooden female figure from Gabon. Artist unknown.
2018-09-12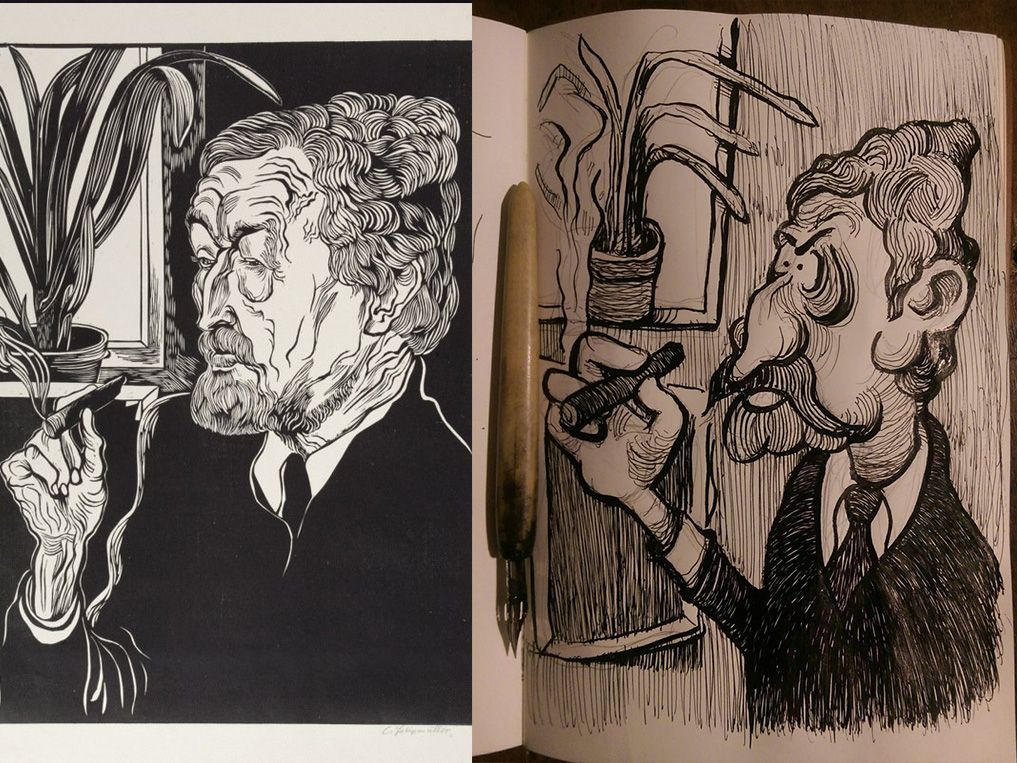 "Woodcut of Christian Rohlfs" by Conrad Felixmüller, 1927.
2018-09-20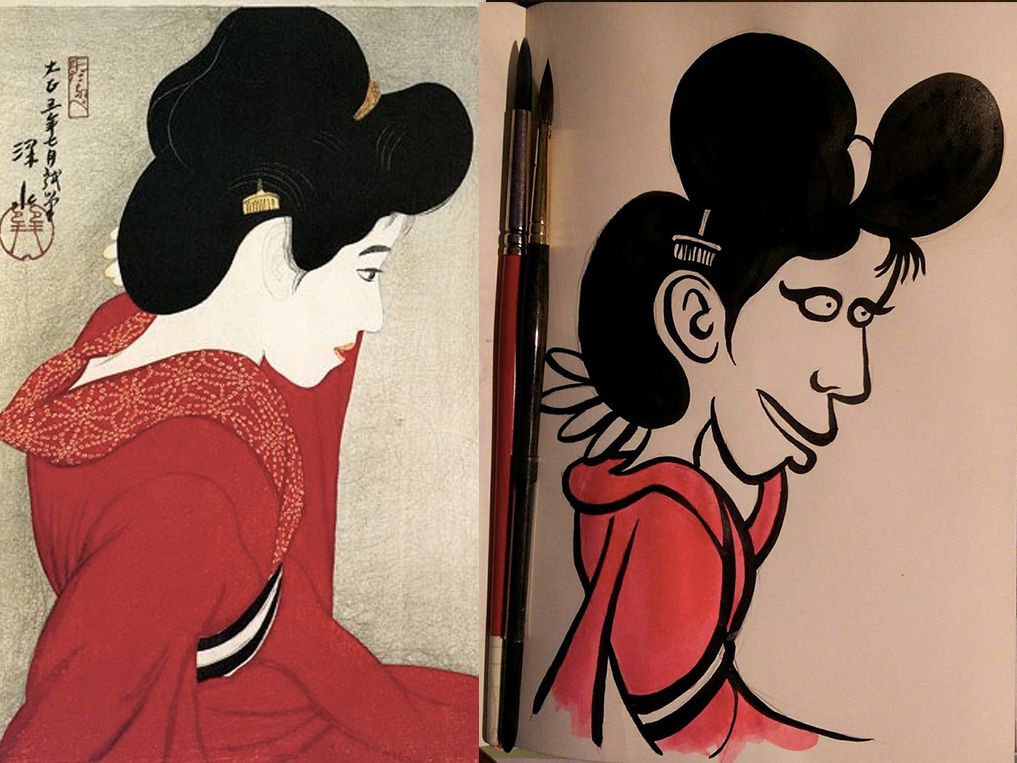 "Before the Mirror", by Shinsui Itō, 1916.
2018-09-27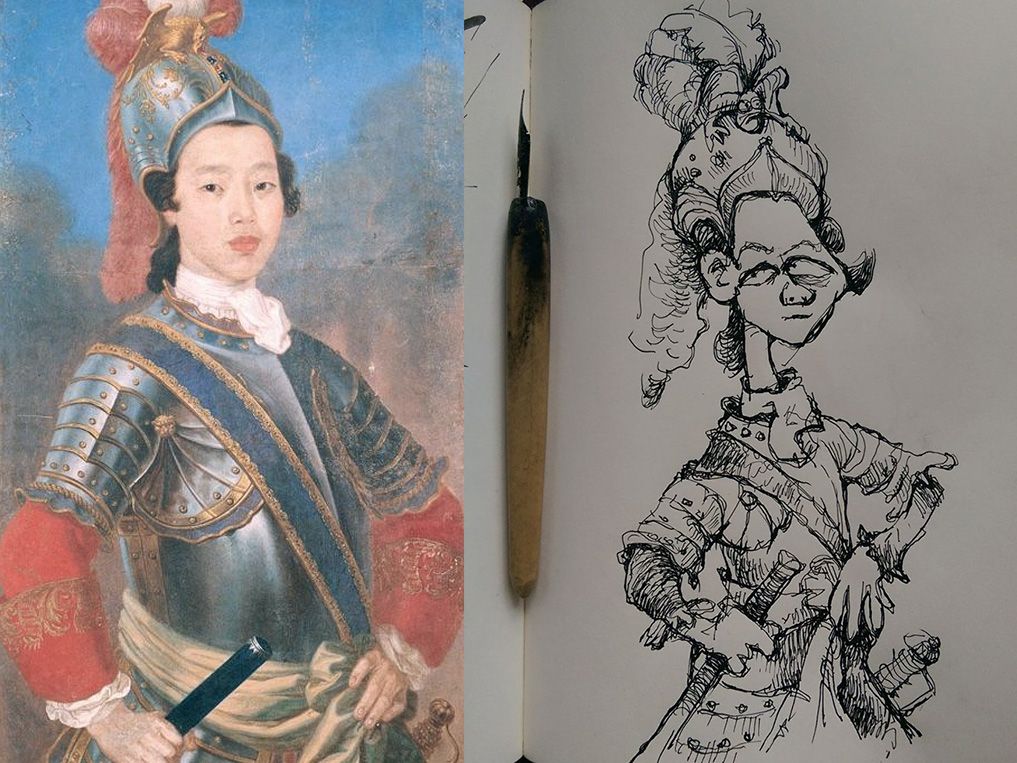 "Painting of Xiang Fei" (a woman) in European Armour, around 1760, by Giuseppe Castiglione, known as Lang Shining (郎世寧) when he worked in China.
2018-10-03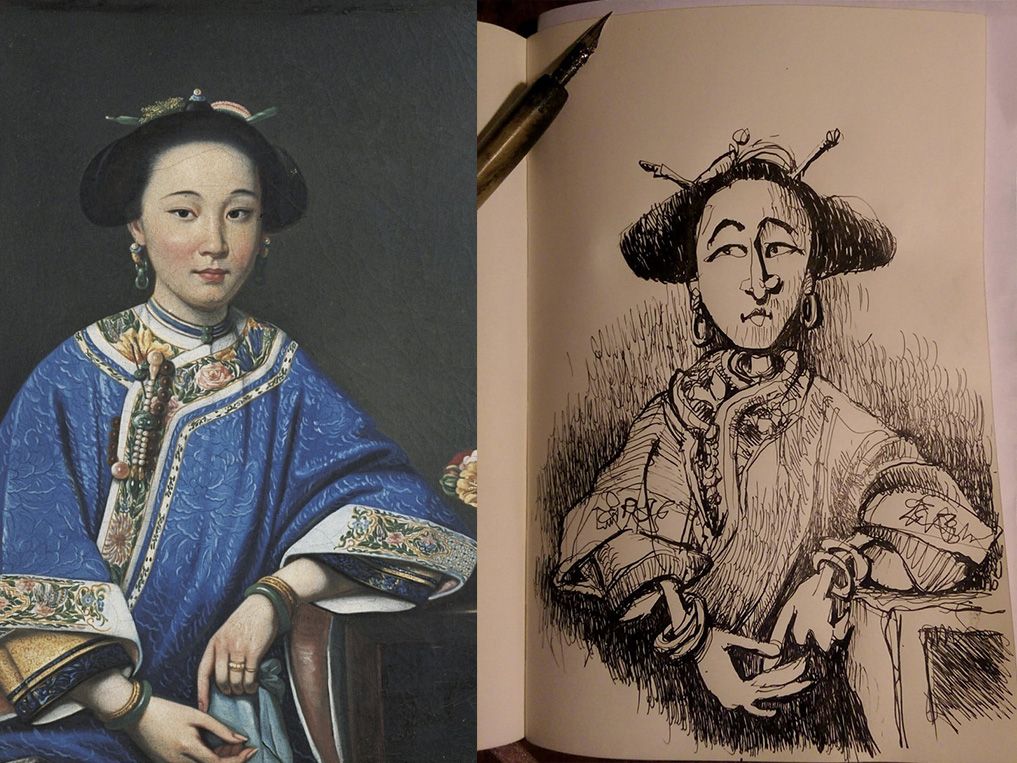 "Xiang Fei", painted in the 1750's by Giuseppe Castiglione, also known as Lang Shining (郎世寧).
2018-10-11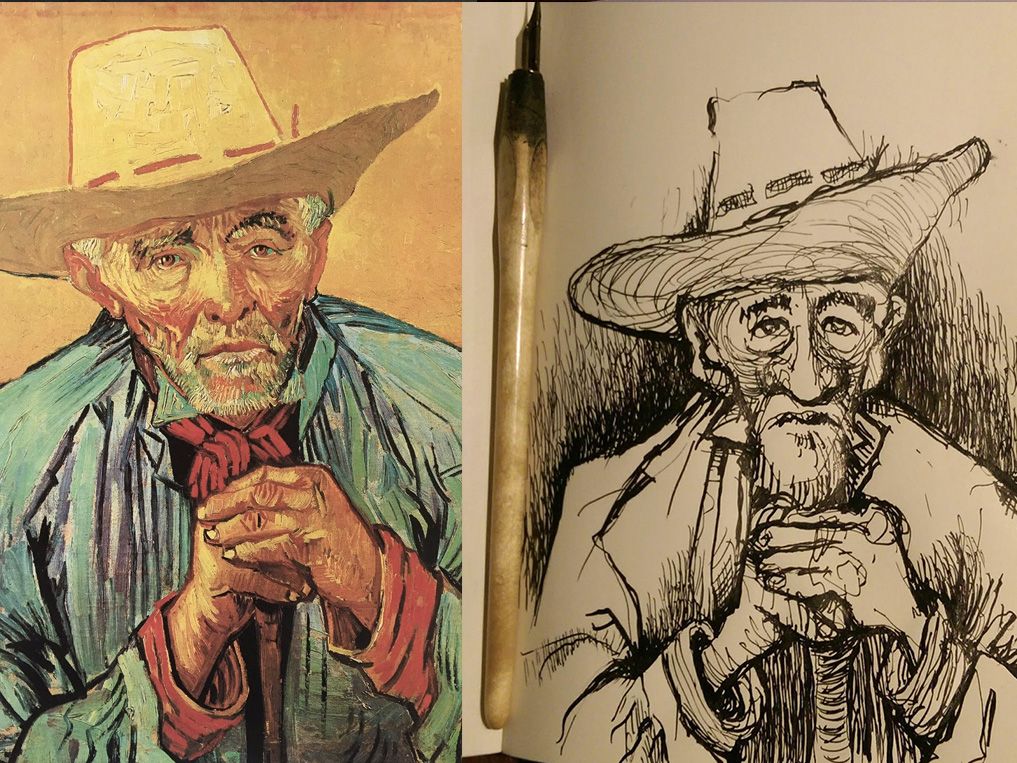 "Portrait of Patience Escalier", by Vincent Van Gogh, oil on canvas, 1888.
2018-10-17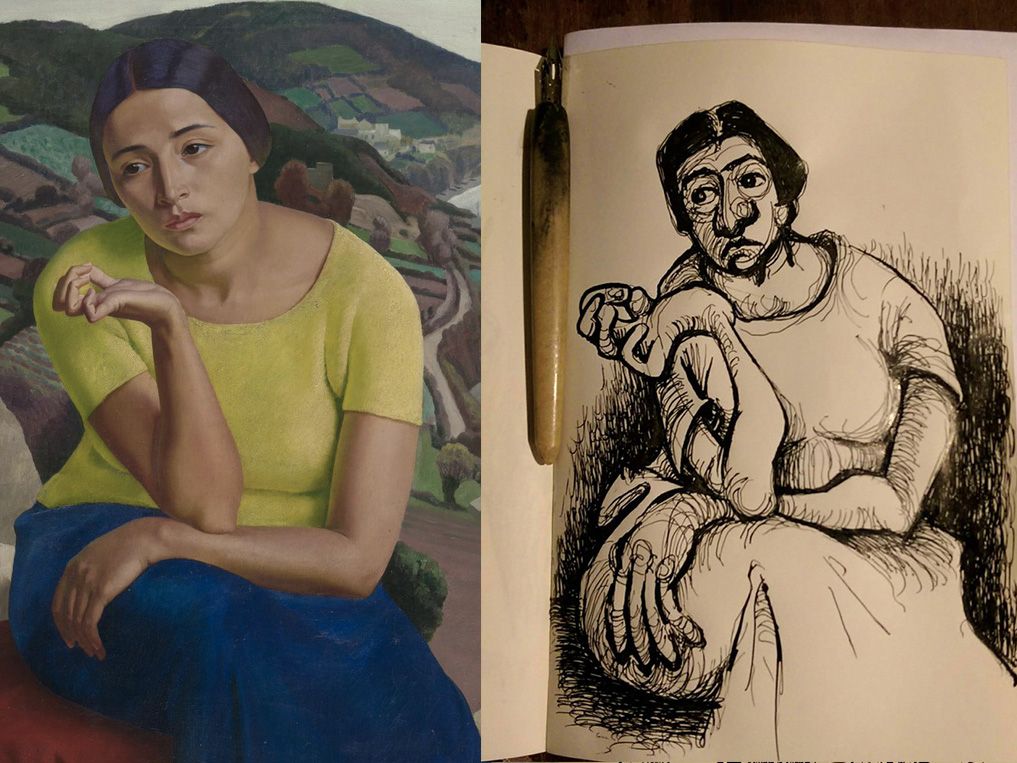 "In a Strange Land", painted in oil on canvas by Dod Procter in 1919.
2018-10-24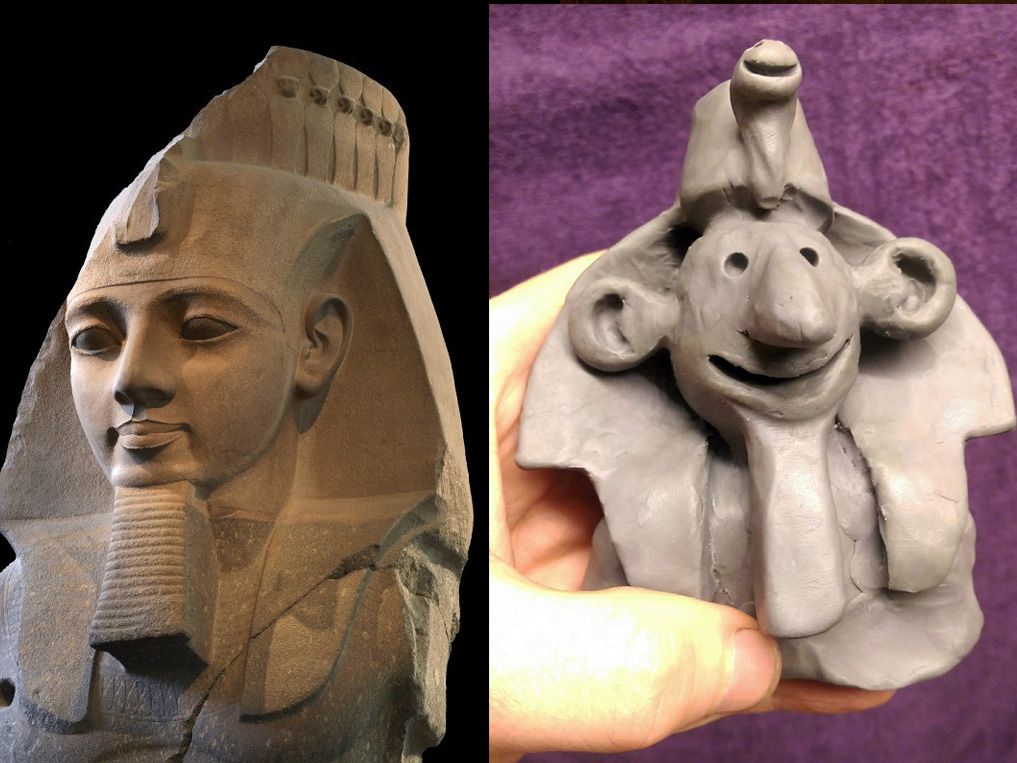 "The Younger Memnon", one of two colossal granite heads from the Ramesseum mortuary temple in Thebes, Upper Egypt. Created around 1270 BC, it depicts the 19th Dynasty Pharaoh Ramses II.
2018-10-31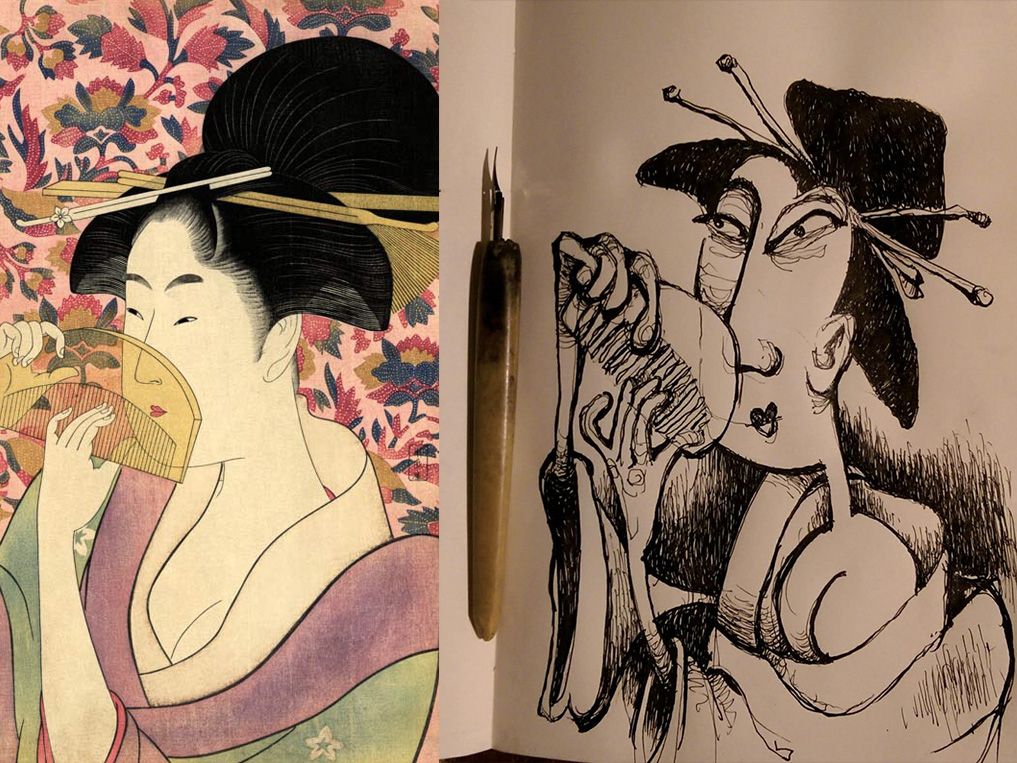 "Comb" by Kitagawa Utamaro, woodblock print, about 1785.
2018-11-07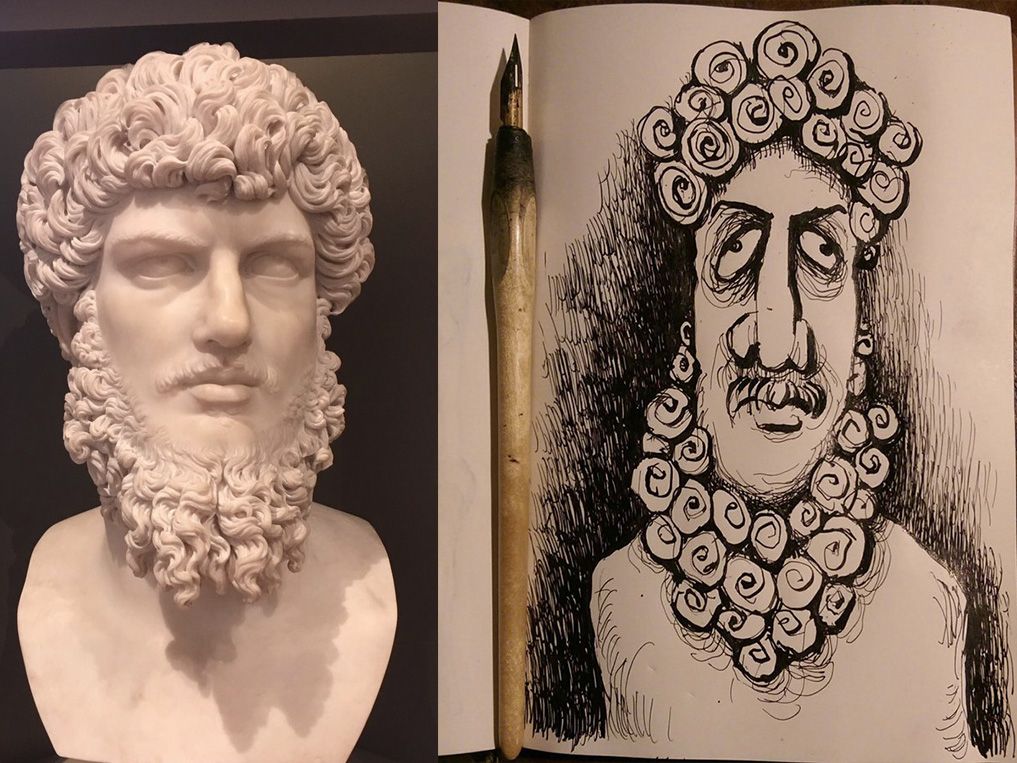 "Bust of Lucius Verus" by Carlo Albascini, 18th century.
2018-11-14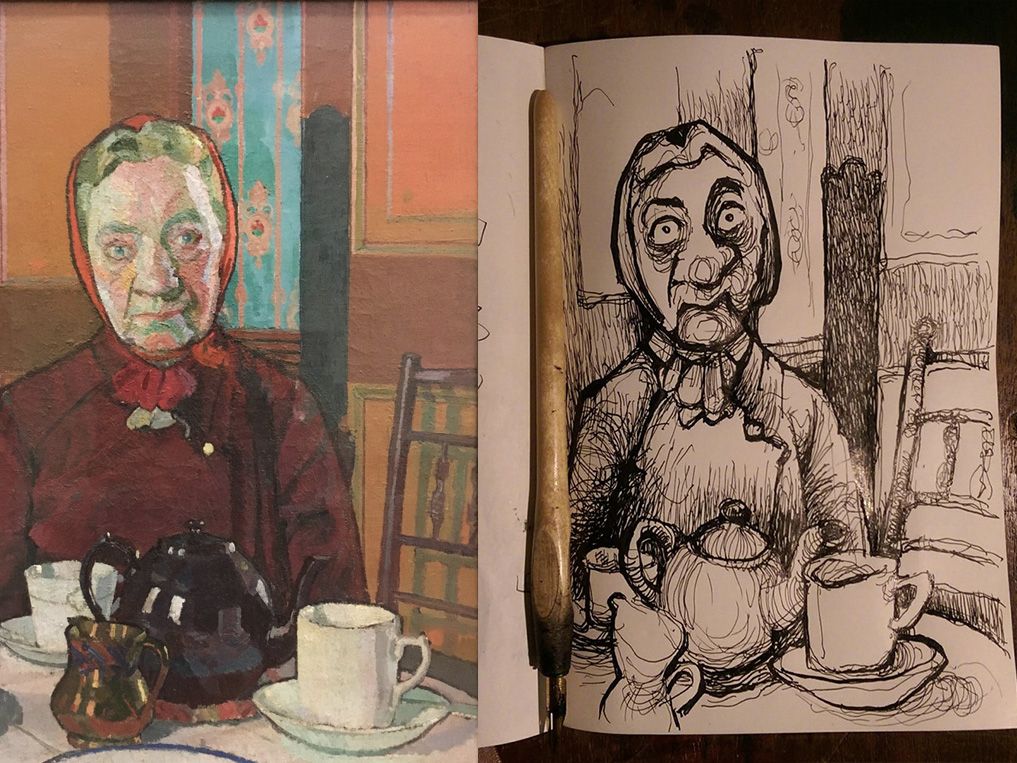 "Mrs Mounter", oil painting by Harold Gilman, first exhibited in 1916.
2018-11-22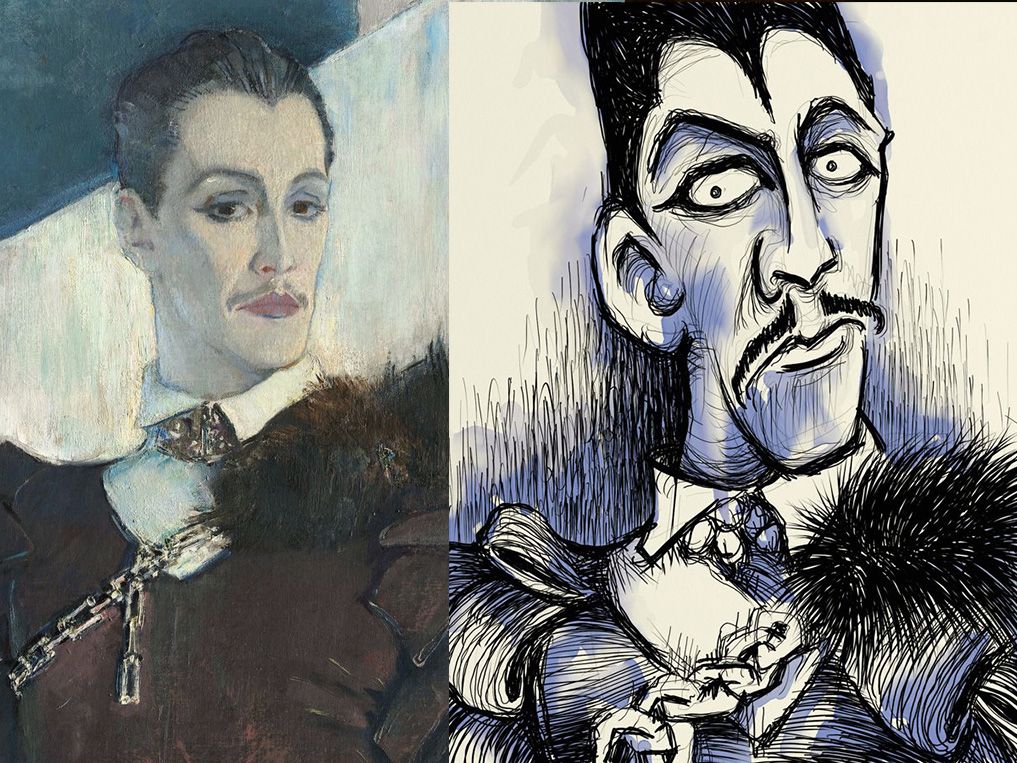 "Glen Byam Shaw as Laertes", painted in oils on canvas by Glyn Warren Philpot between 1934-35.
2018-12-06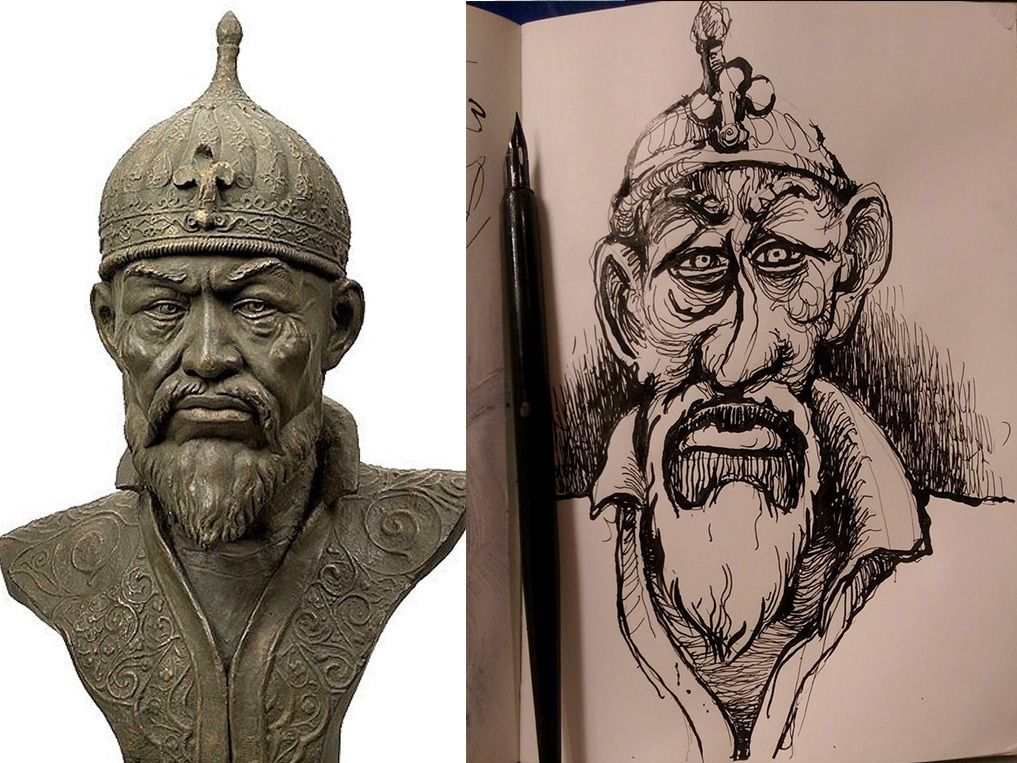 "Amir Timur" (also known as Tamerlane): forensic facial reconstruction from a skull by Soviet archaeologist and anthropologist Mikhail Mikhaylovich Gerasimov, 1941.
2018-12-12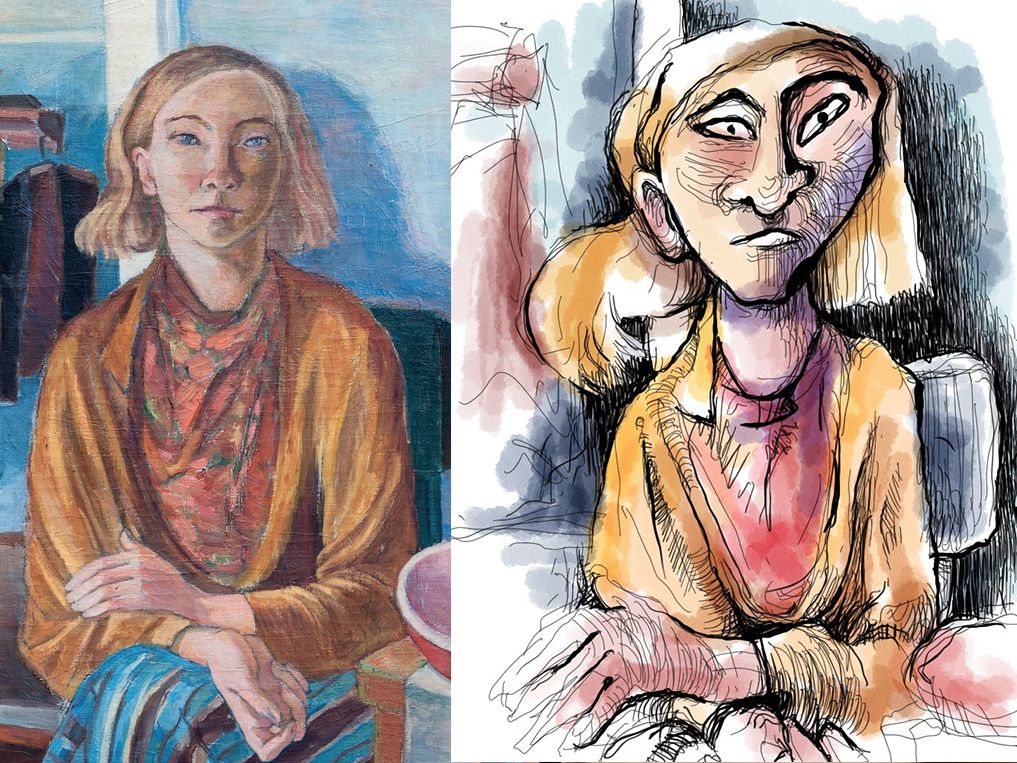 "Self Portrait" by Tove Jansson, 1936, oil on canvas.
2019-01-02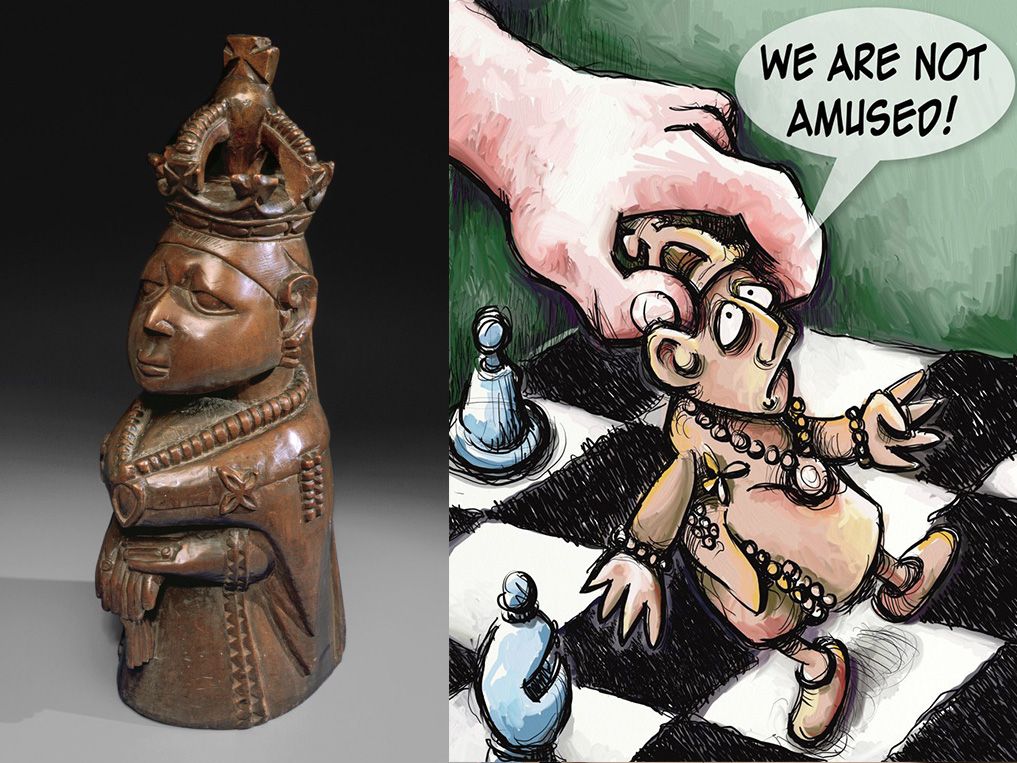 Yoruba wooden carving of Queen Victoria, 1876, Nigeria, sculptor unknown.
2019-01-10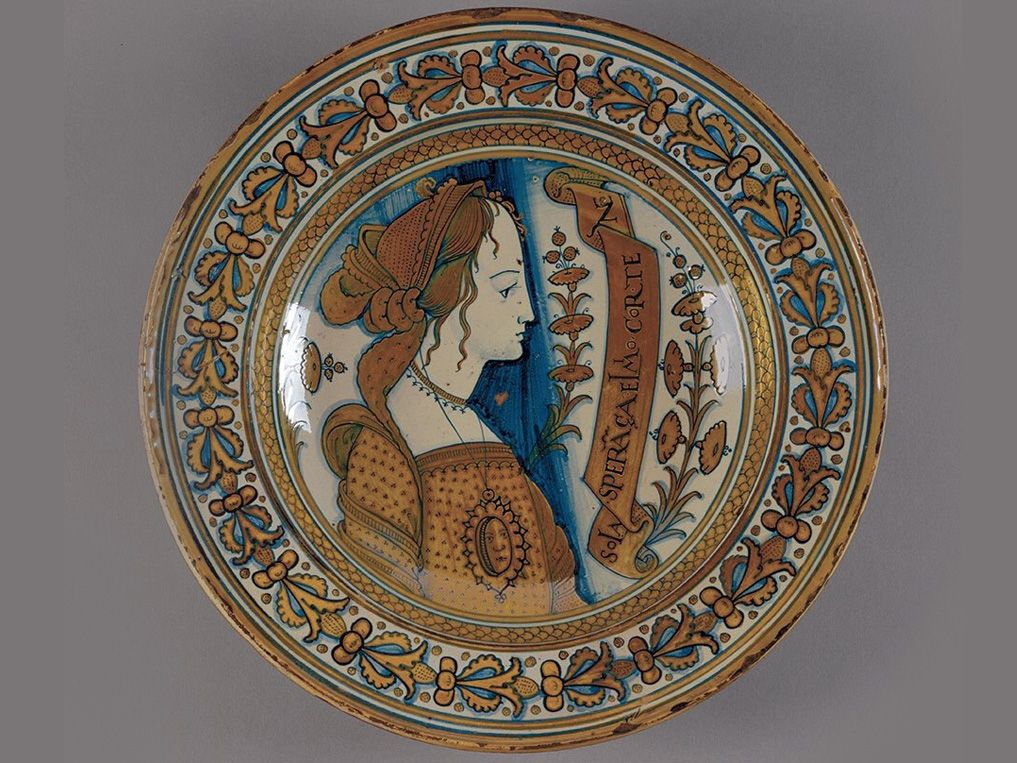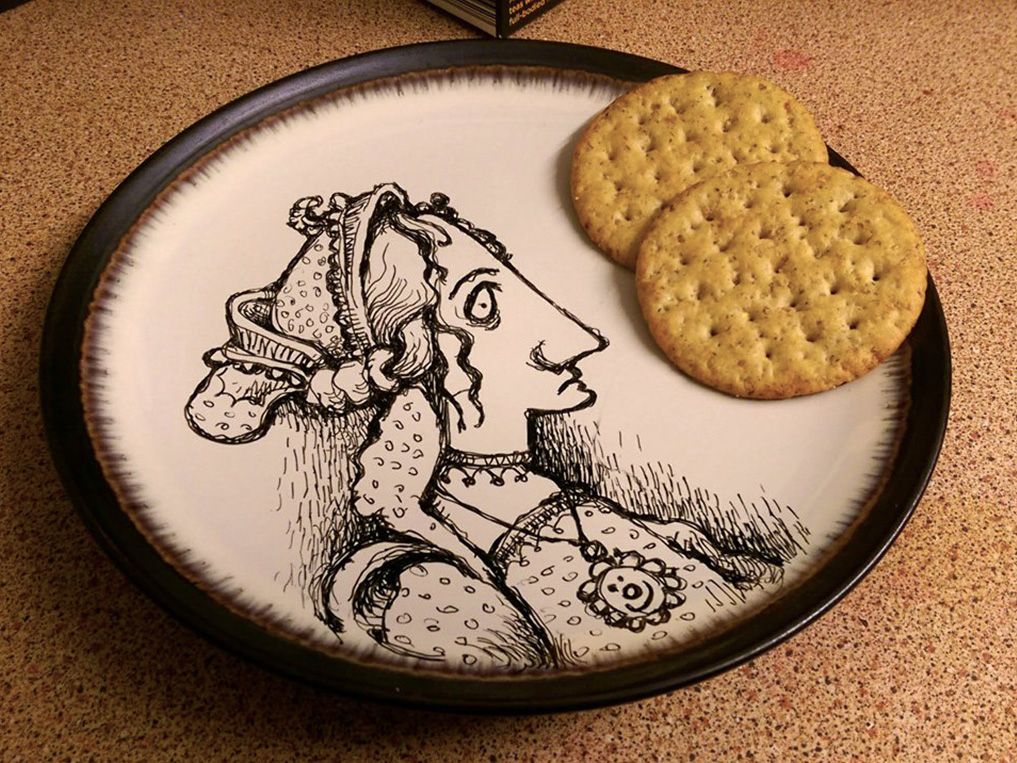 Profile bust of a woman, made by an unknown artist in Deruta, Italy, some time between 1515-1540. Dish perhaps made to mark a betrothal; inscription reads 'Only hope holds my heart'.
2019-01-17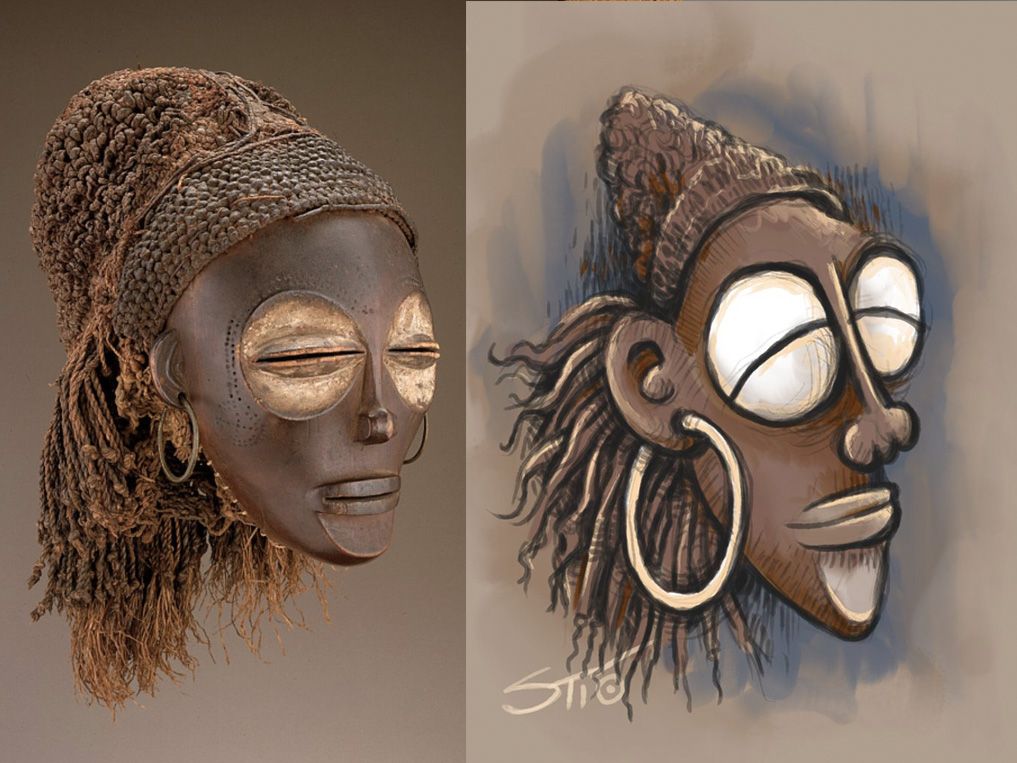 Mask made of wood, plant fibre, pigment and copper alloy, by a Chokwe artist, early 20th century.
2019-01-24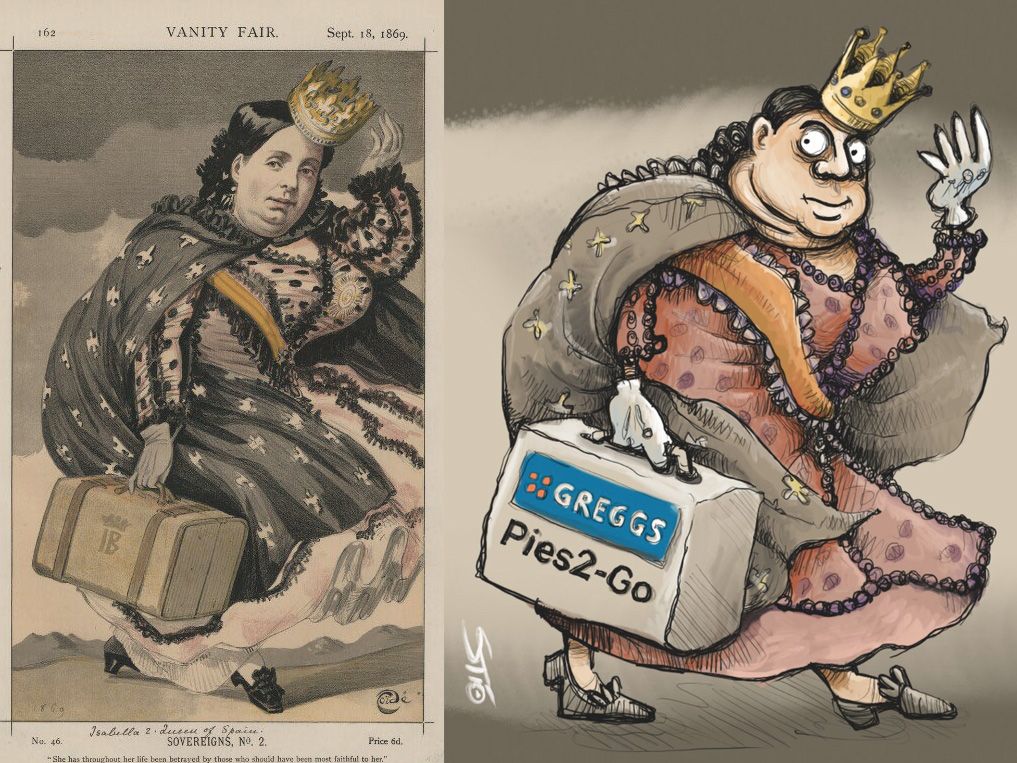 "Queen Isabella II of Spain", by James Jacques Tissot: chromolithograph, published in Vanity Fair.
2019-01-31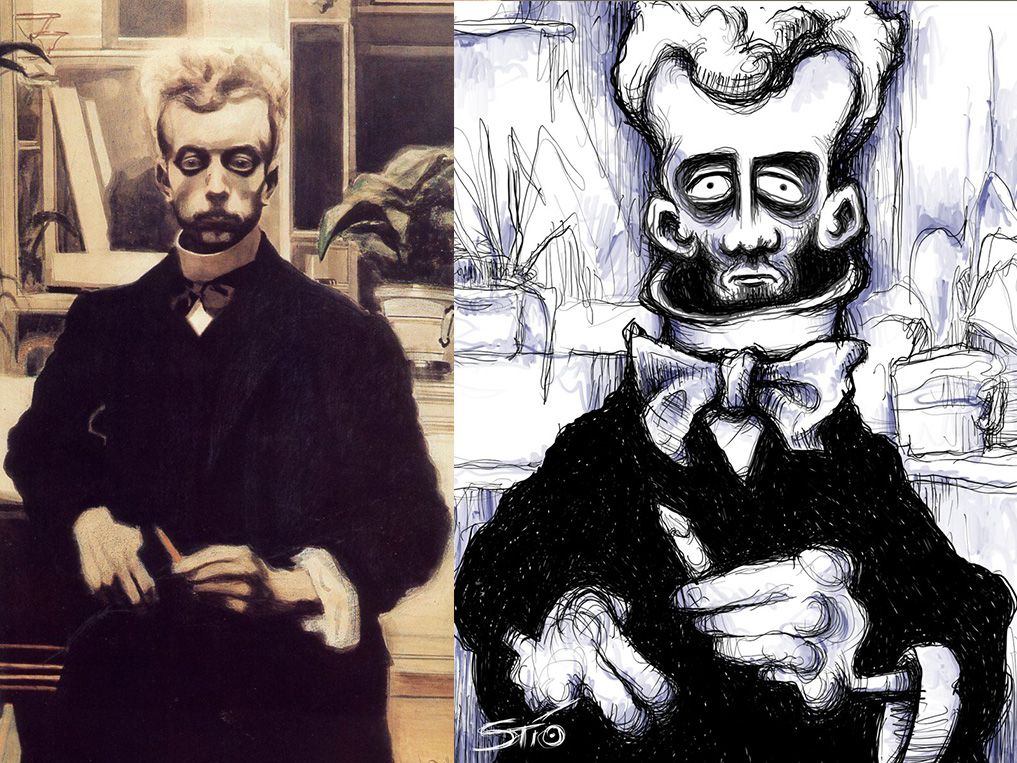 "Self Portrait with Red Pencil", by Léon Spilliaert, 1907-1908.
2019-02-07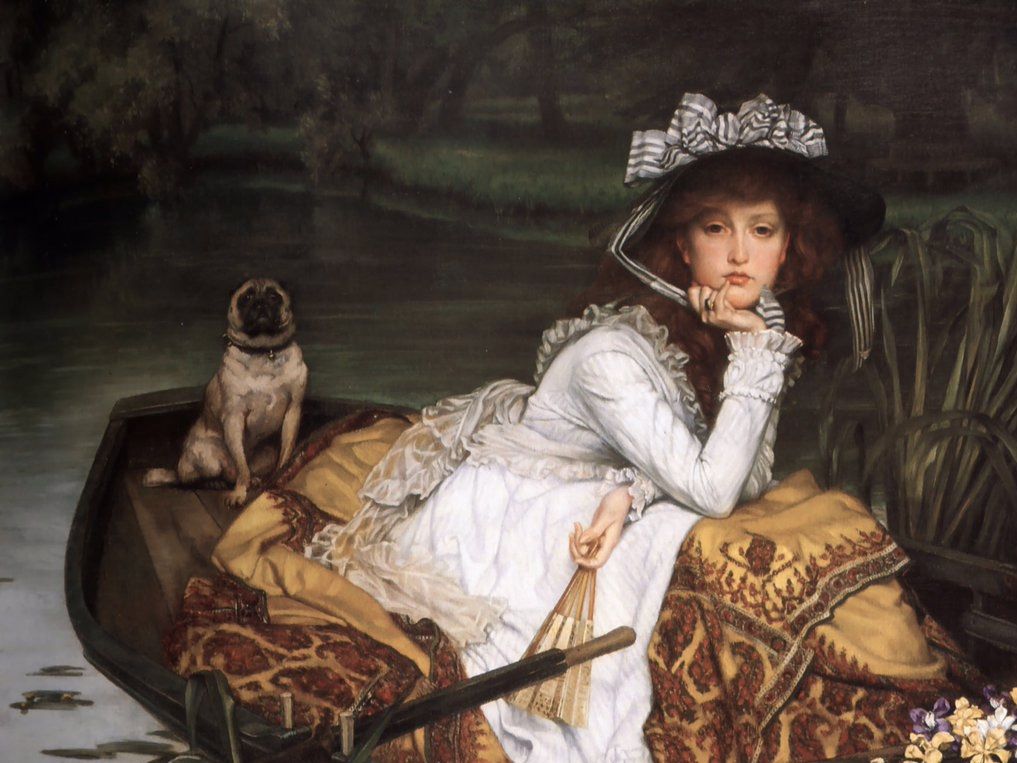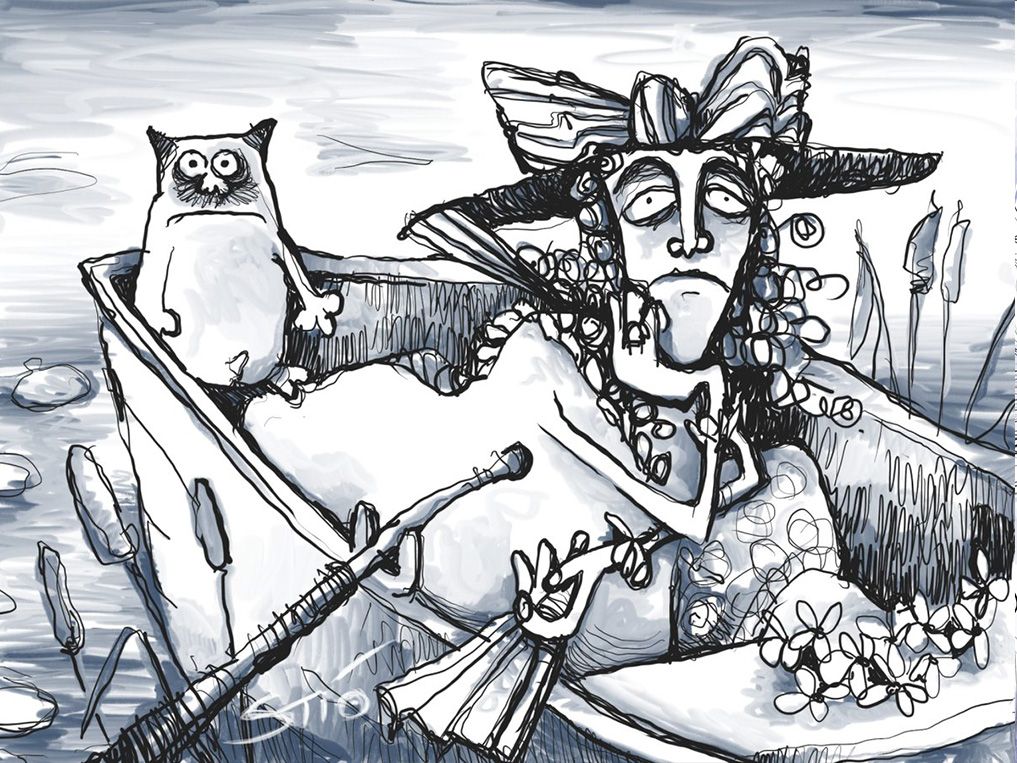 "Young Lady in a Boat", 1870, oil on canvas by James Tissot.
2019-02-21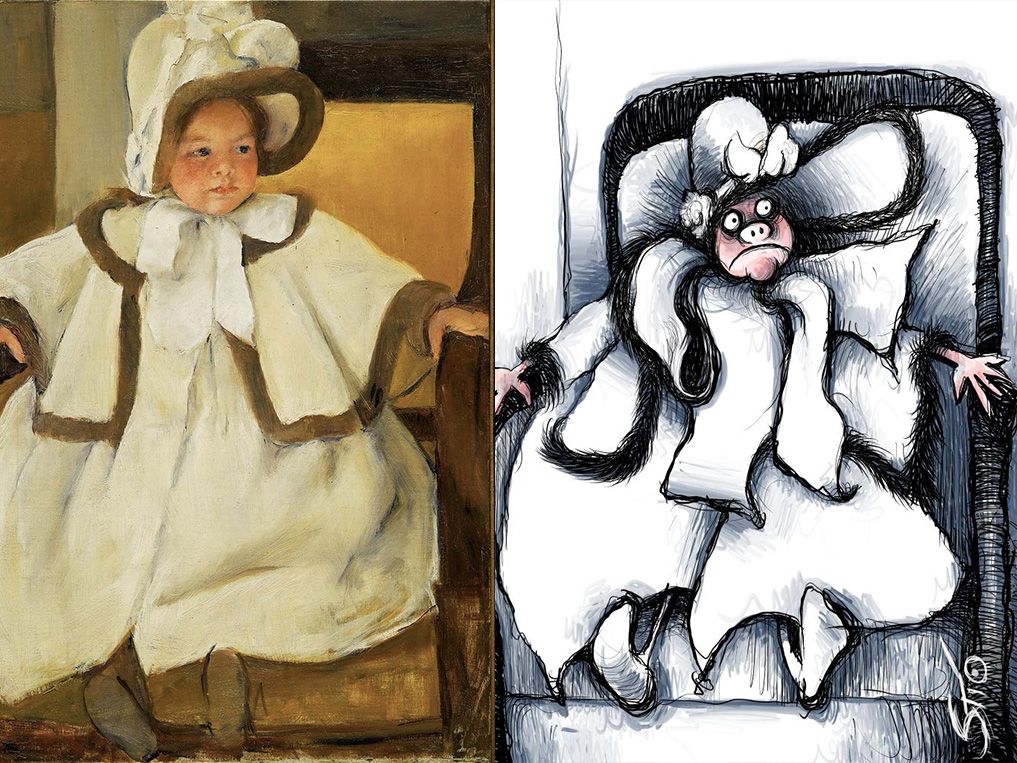 "Ellen Mary in a White Coat", painted in oils on canvas by Mary Cassatt around 1896.
2019-02-28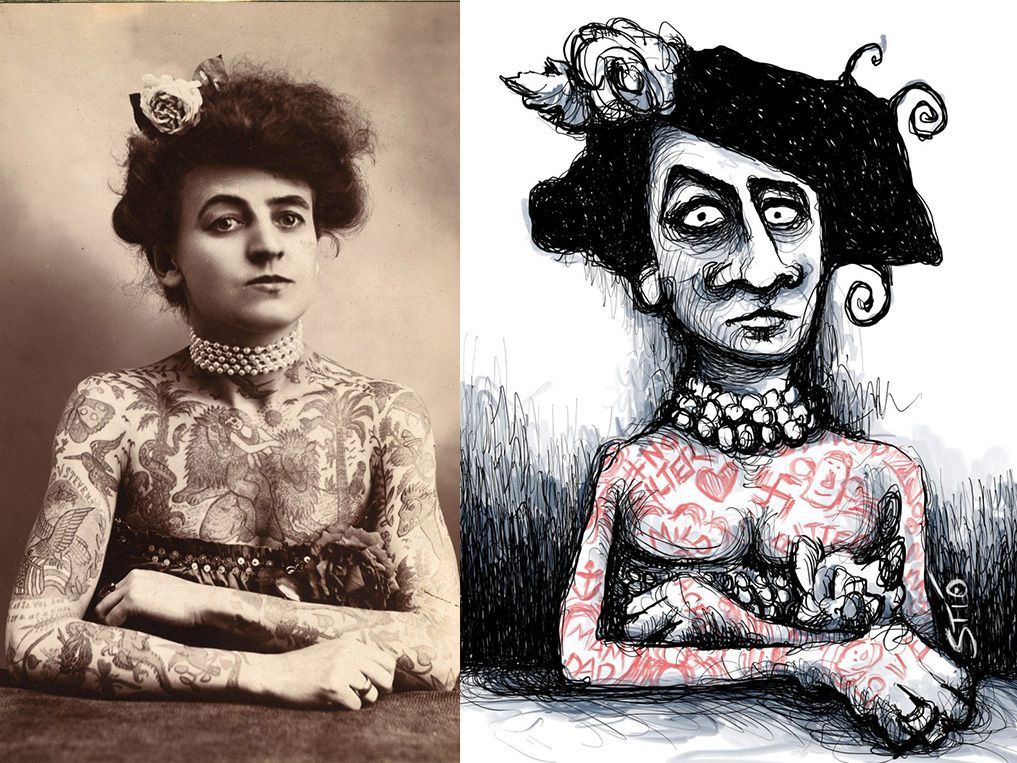 "Maud Wagner", circus performer and the first known female tattoo artist in the United States. 1907, photographer unknown.
2019-03-07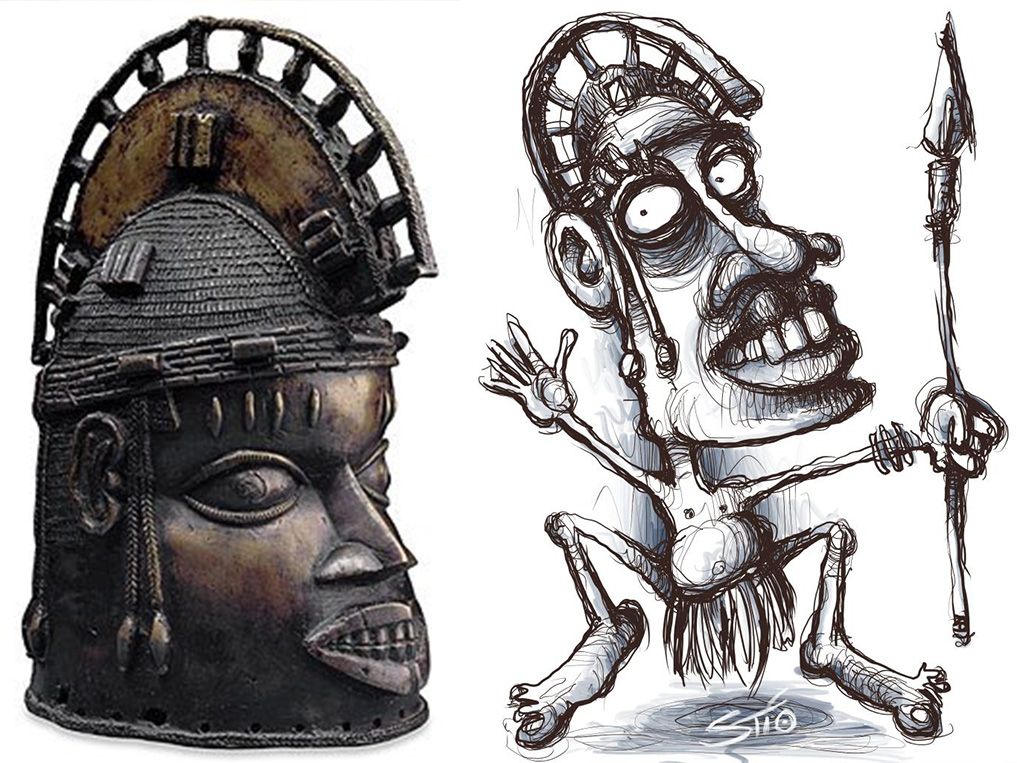 Brass helmet mask for the Ododua ritual. Edo artist unknown, 18th century, from Benin, Nigeria.
2019-03-14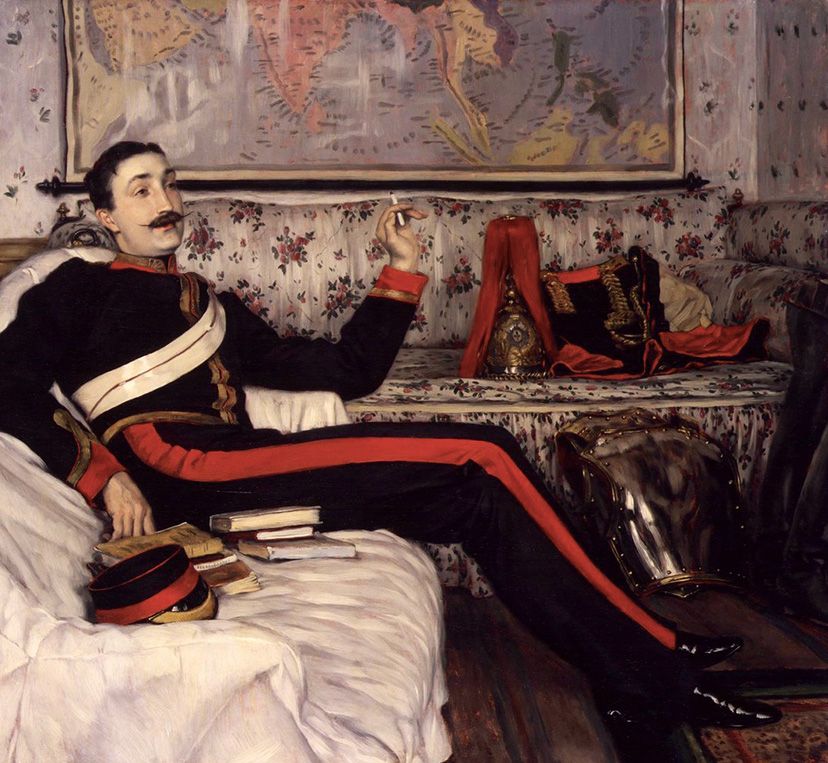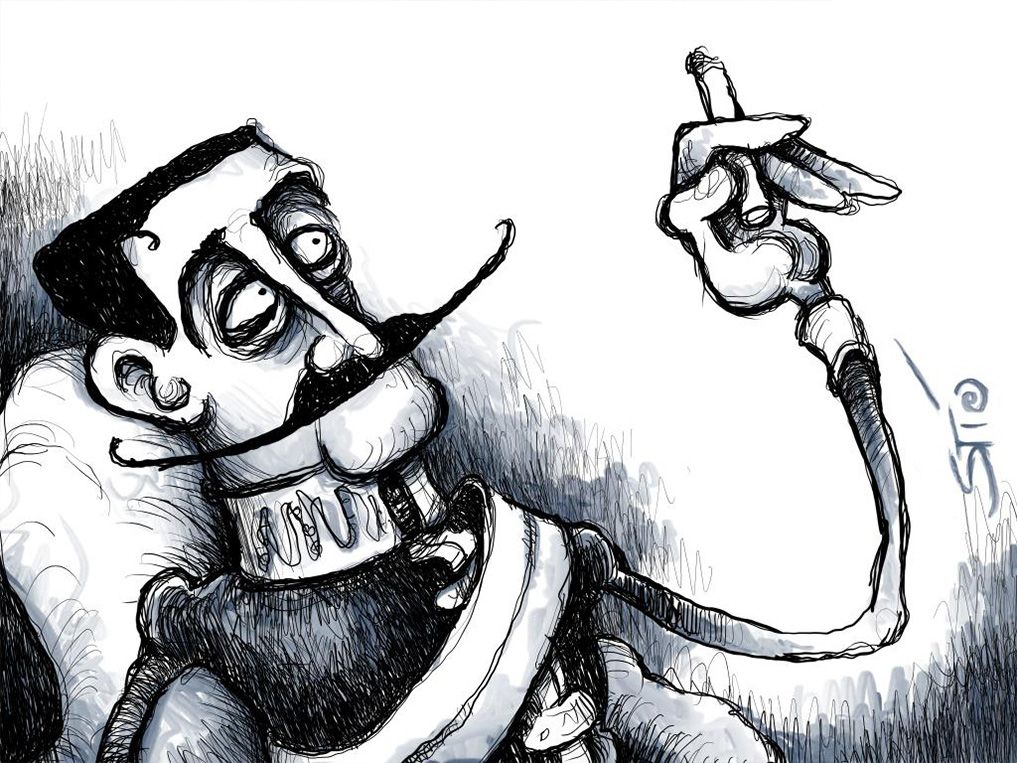 "Frederick Gustavus Burnaby", painted in oils on panel in 1870 by James Tissot.
2019-03-21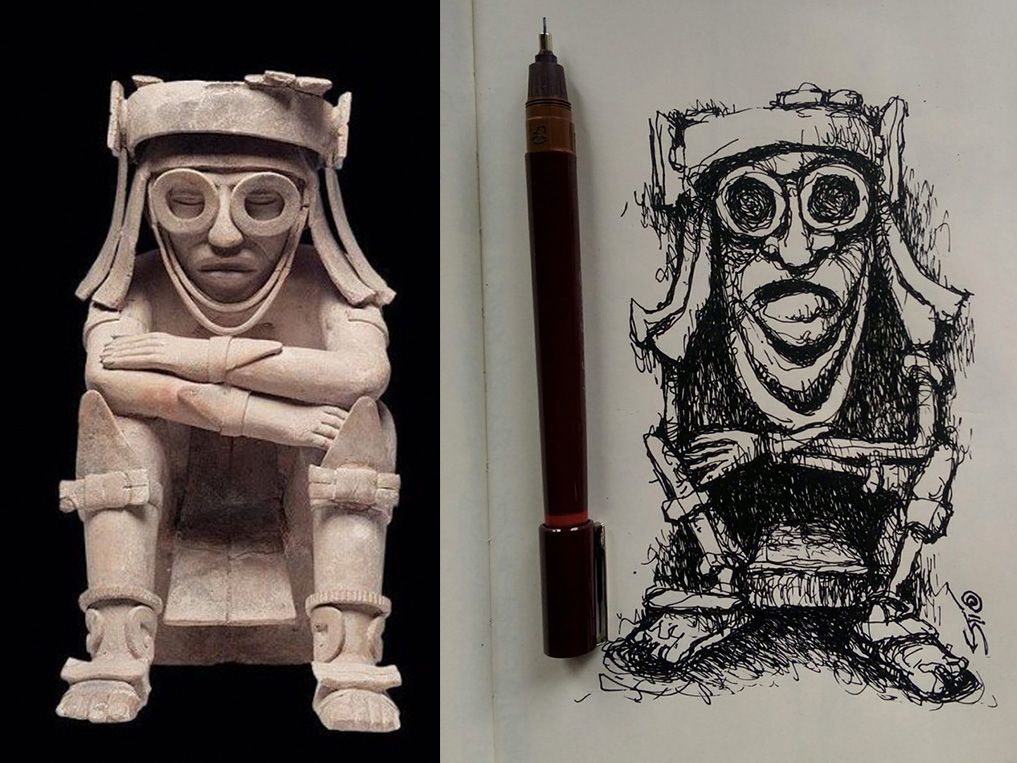 "Tlāloc", Aztec god of rain, water, and fertility, usually shown with goggles; terracotta sculpture created by an unknown artist sometime between 600-900 AD.
2019-03-28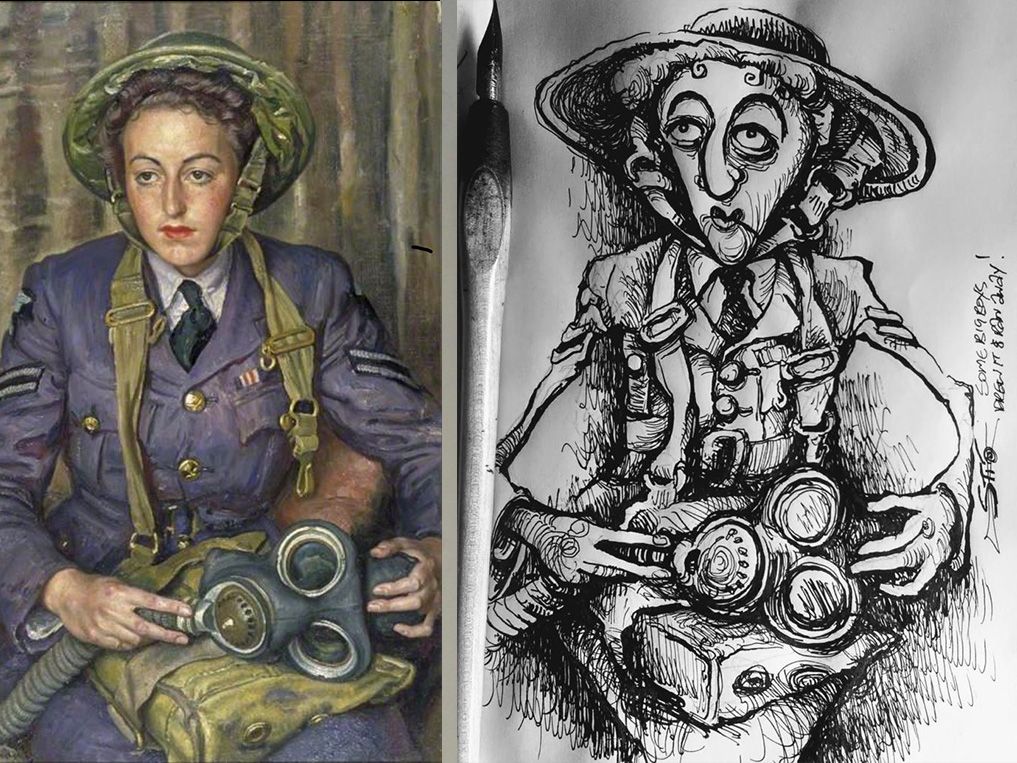 "Corporal J. M. Robins, Women's Auxiliary Air Force", painted by Laura Knight in oils on canvas in 1941.
2019-04-04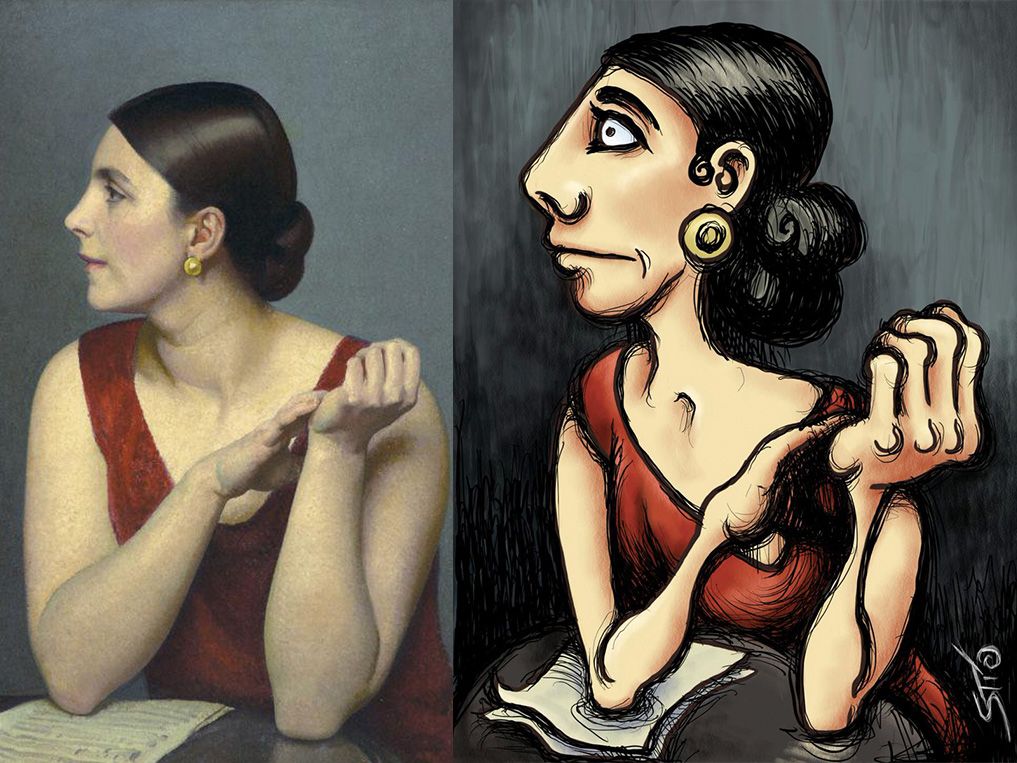 "Ethel Bartlett", painted by Laura Knight in 1926.
2019-04-11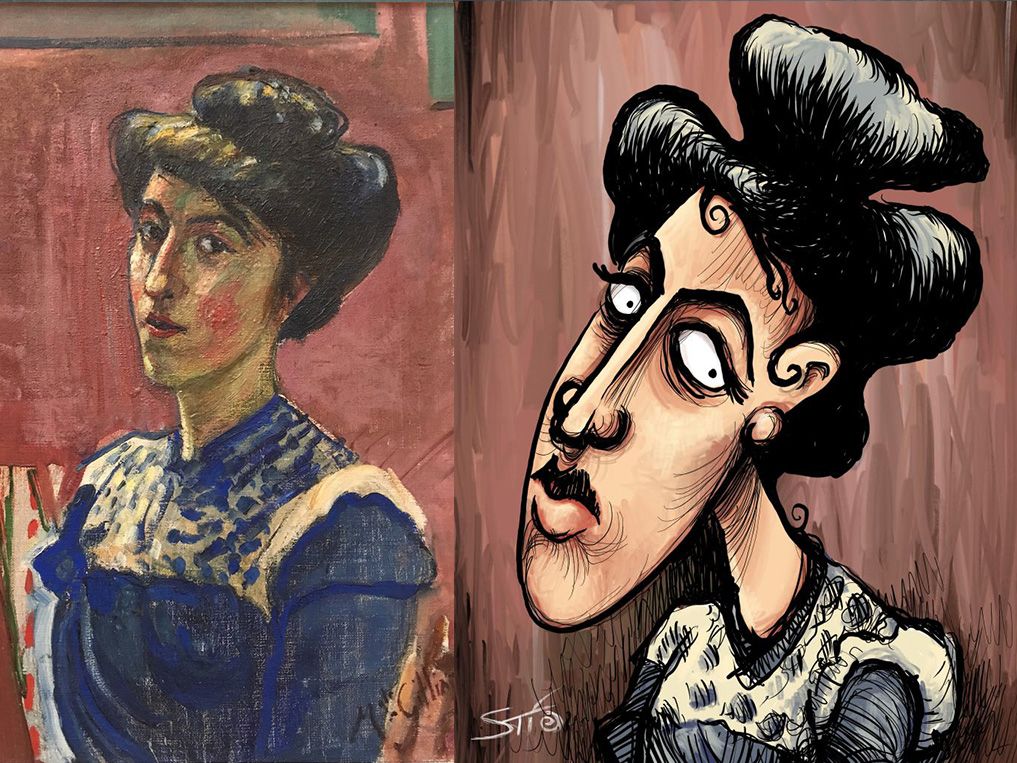 "Self portrait in Blue" by Marguerite Vallet-Gilliard (lived 1888-1918, portrait date unknown).
2019-04-18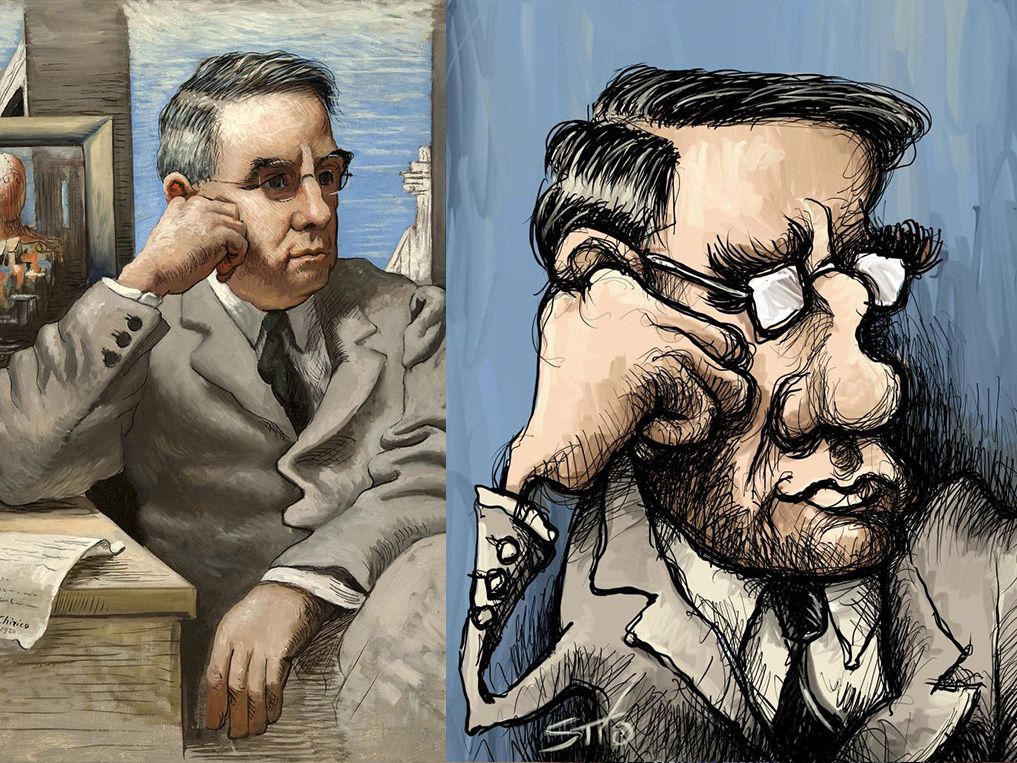 "Dr Albert Barnes", painted in oils on canvas by Giorgio De Chirico in 1926.
2019-05-02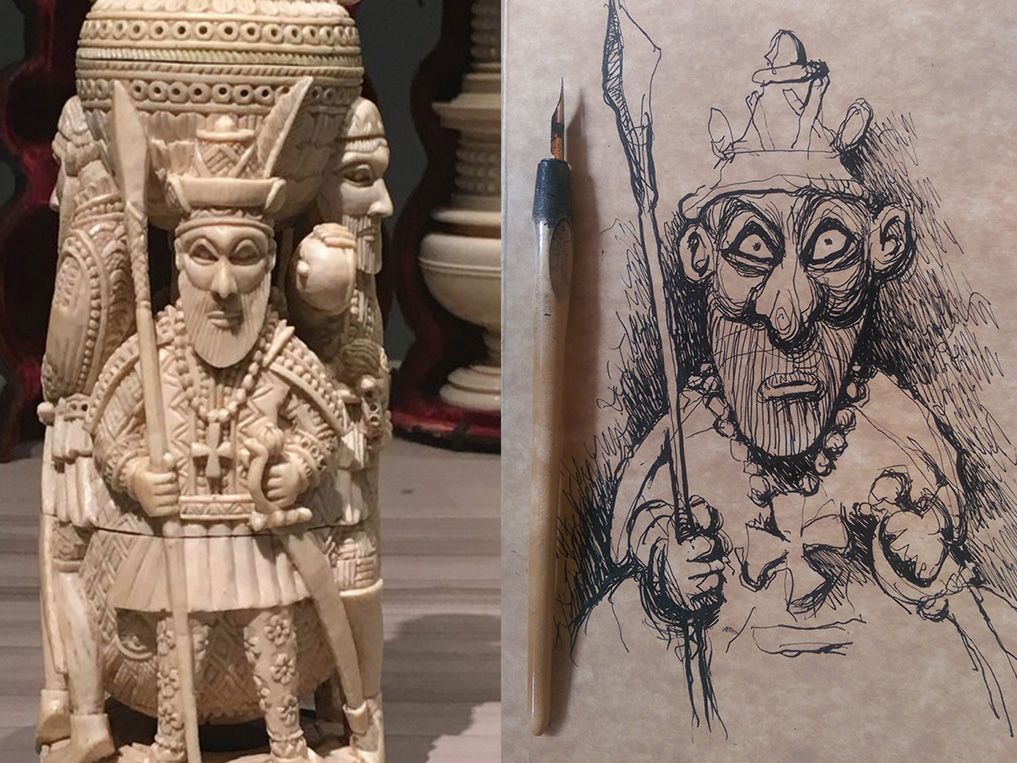 Detail of a salt cellar with Portuguese soldiers and a caravel. Unknown Edo artist from Benin, carved around 1600.
2019-05-23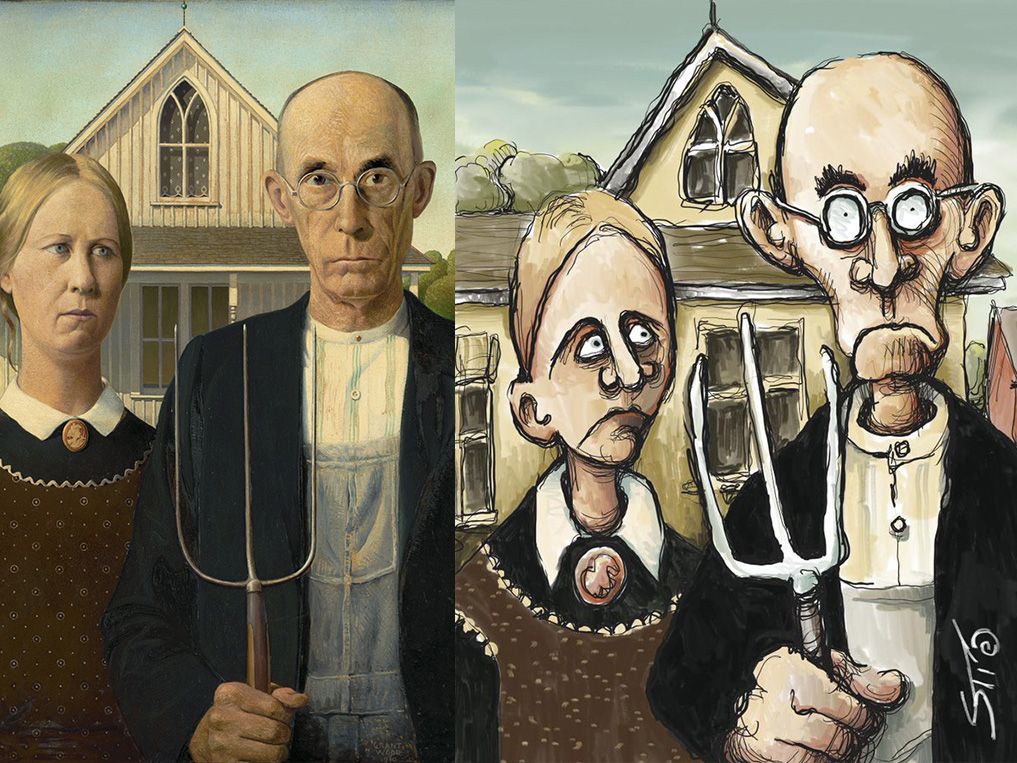 "American Gothic" by Grant Wood [1930].
2019-05-30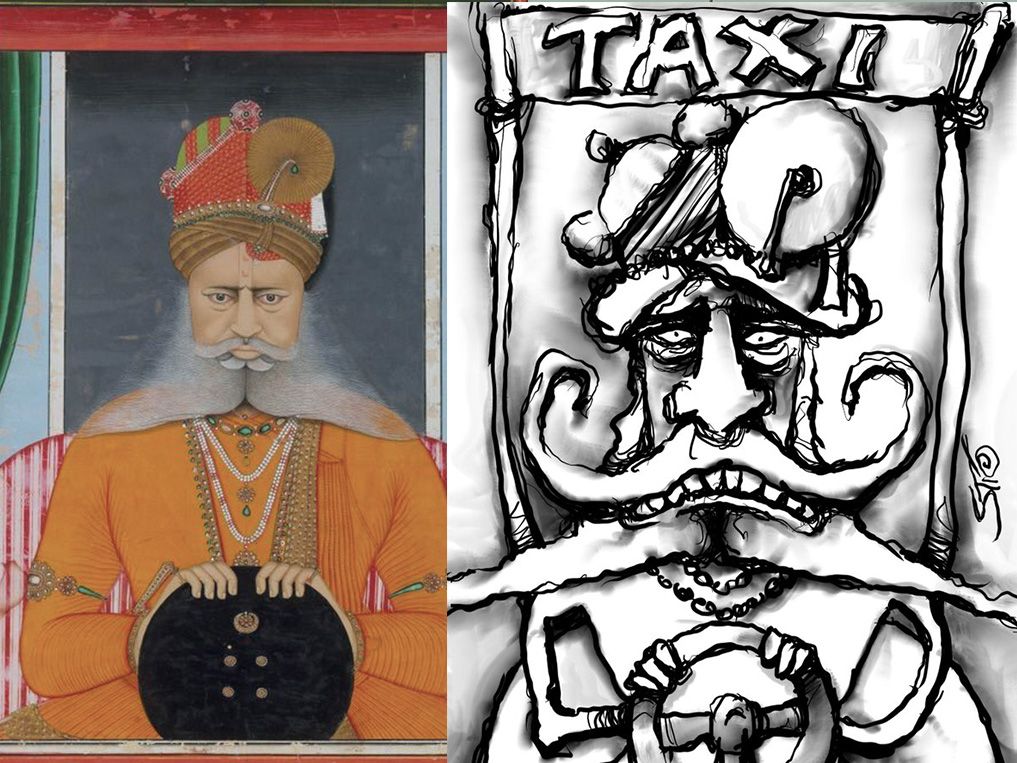 "Maharaja Sardar Singh of Bikaner" by Chotu [1860–70].
2019-06-06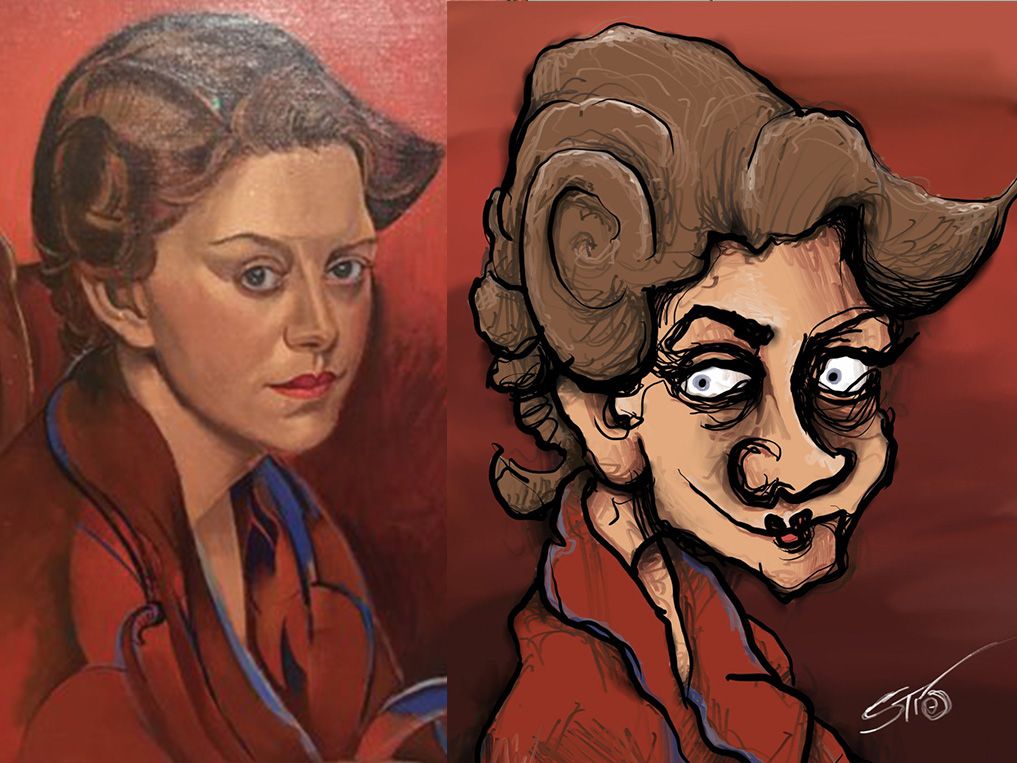 "Froanna, the Artist's Wife" by Wyndham Lewis [1937].
2019-06-13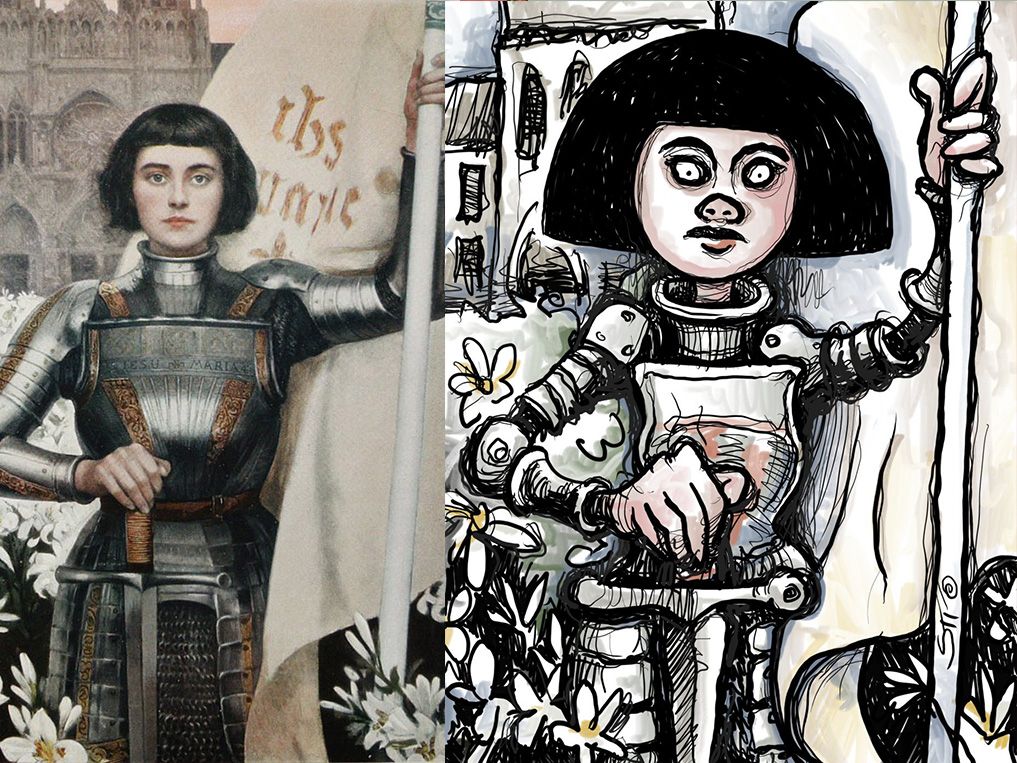 "Joan of Arc" by Albert Lynch [1903].
2019-07-03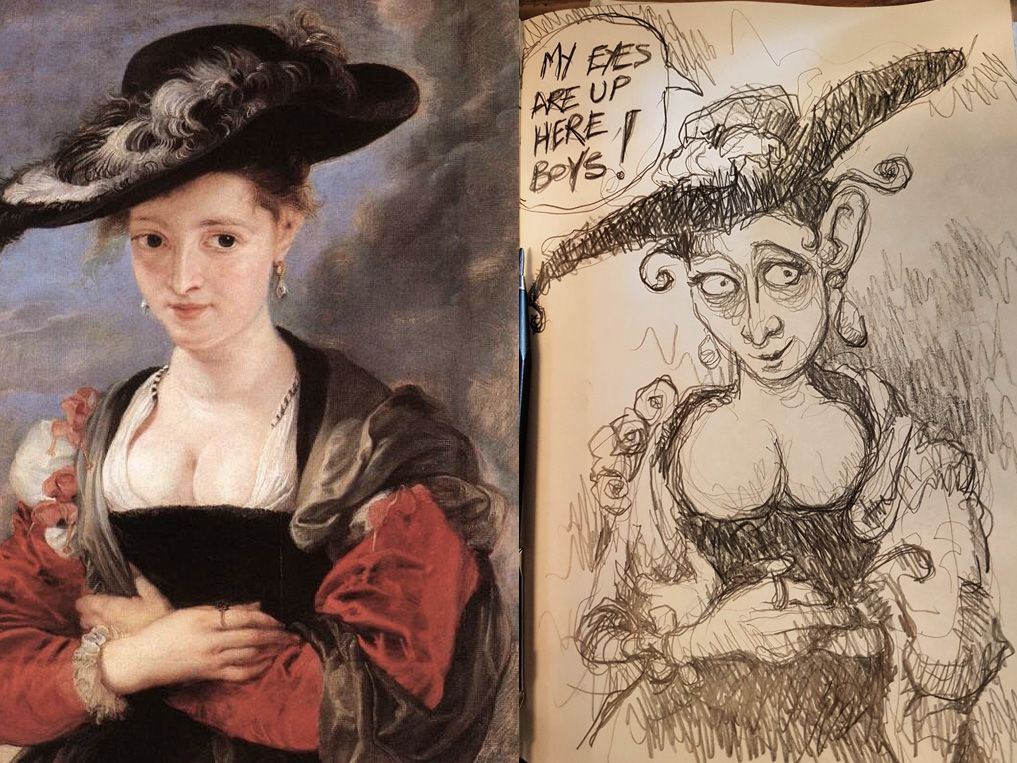 "The Straw Hat" by Pieter Paul Rubens c1625.
2019-07-10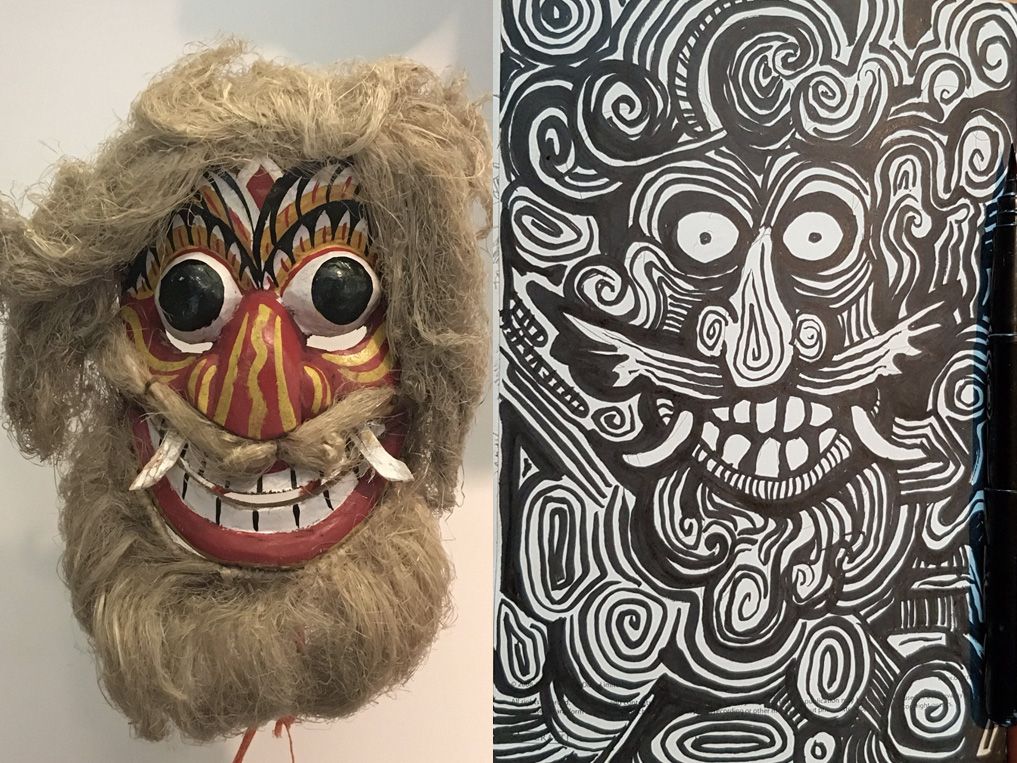 Pandam Paliya Thovil mask. 20th century. Sri Lanka. Artist unknown.
2019-07-18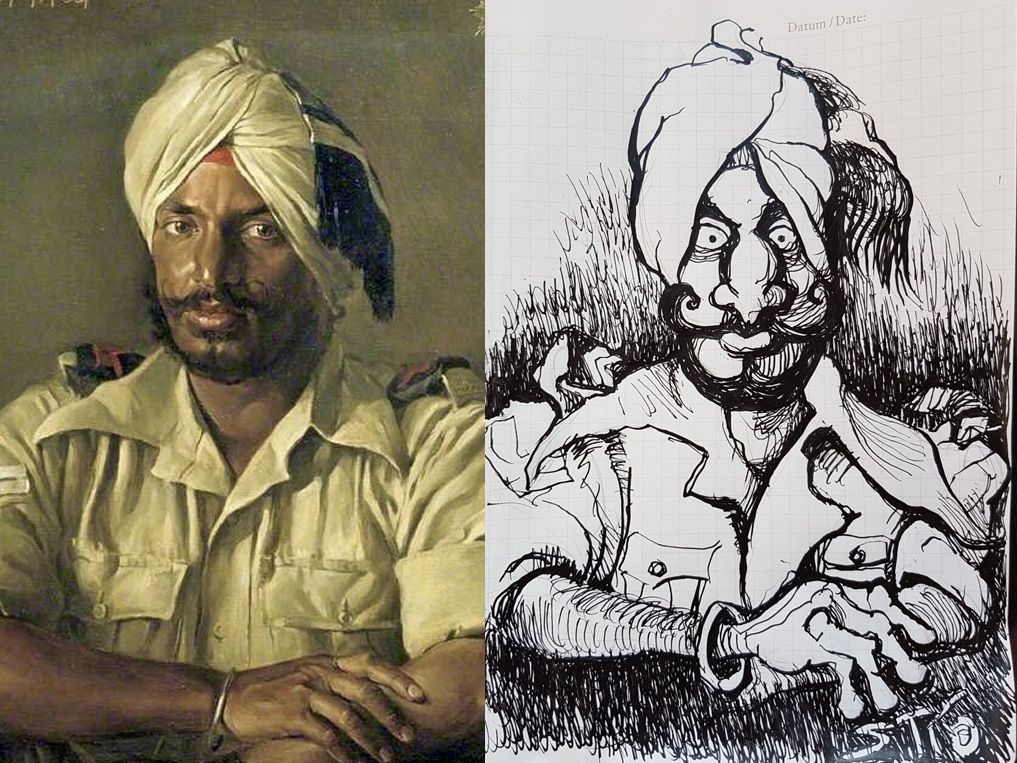 "Atma Singh" by John Berry. 1943.
2019-07-25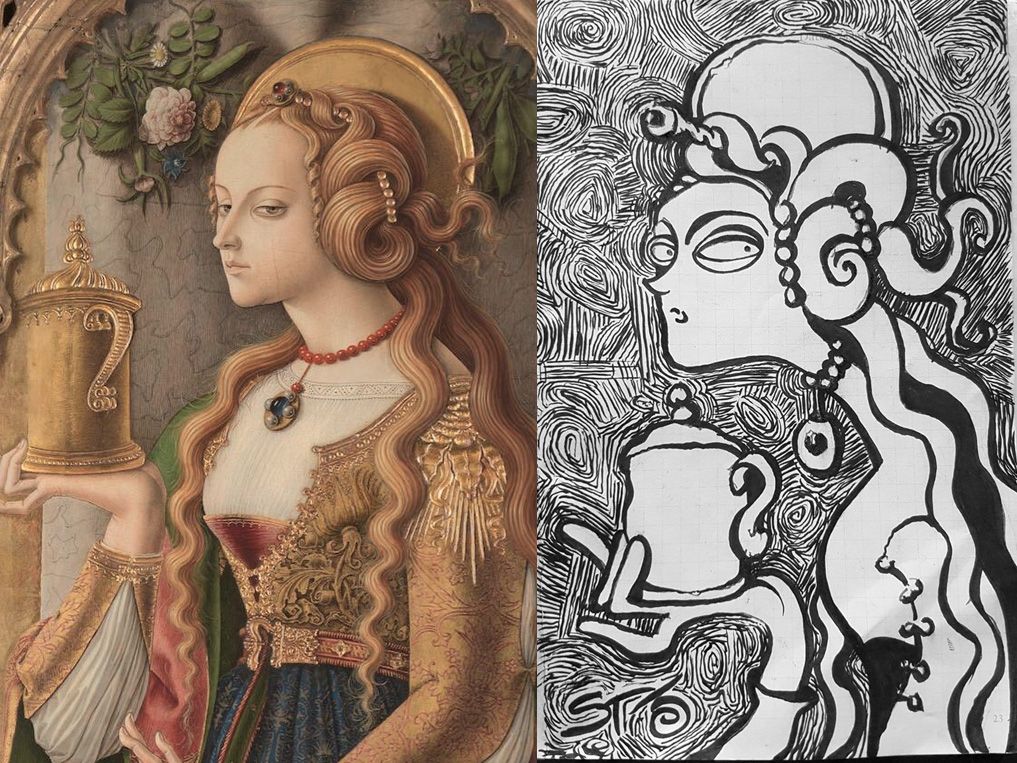 "Mary Magdalene" by Carlo Crivelli. 1480.